Published by Sally on April 26, 2016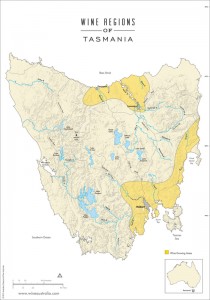 Tasmania is Australia's cool climate wine state, on roughly the same latitude as Marlborough, New Zealand. An average growing season temperature (GST) of 14.4°C puts it at about number three in the world's coolest climate, significantly-sized, wine growing regions.
Michael Hill-Smith MW is the co-founder of Shaw and Smith in Adelaide Hills, and of Tolpuddle Vineyard in Tasmania. We are told that he is an honorary Tasmanian, which is probably quite some accolade. He put together a masterclass to show what Tas is doing best, namely sparkling, riesling, chardonnay and pinot noir.
This is reasonably reflective of the main cultivars planted in the state (1,880 hectares):
Pinot noir                             41%
Chardonnay                       18%
Sauvignon blanc               17%
Pinot gris                             10%
Riesling                                  8%
Hill-Smith said "Tasmania is genuinely cool climate, which will be increasingly important for Australia. The west coast is really quite wet [but] the vineyards [which are] on the north, east and south are really quite dry. Cold and dry. You can leave grapes on the vine longer. You get rapier-like acidity combined with ripe flavour.
"What's unique about Tasmanian wine is the fruit purity and precision combined with wonderful levels of natural acidity. In my opinion Tasmanian acidity is the same way as acidity is to Chablis or Mosel. It's important to the personality, structure and longevity of the wines." It is only after a year or so that the wines start to loosen up, he suggested, as is the case in those northern European regions.
Cool climates are often revered for the quality of sparkling wine they can produce, and Tasmania is no exception. More than a third of the state's production goes to sparkling wine, mostly from chardonnay and pinot noir. Tas is good for sparkling, Hill-Smith said, because "you get flavour ripeness at low sugar levels, with a lovely acid spine."
Hill-Smith illustrated the rate of growth of the Tas industry – from 47 hectares planted in 1986, to 1,880 ha today. Comparison with the UK is noteworthy – which in 1986, had 488 ha, and in excess of 2,000 ha today. In the UK nearly 2/3rd of production goes to sparkling.
Hill-Smith said Tassie riesling often has some residual sweetness, to balance high acidity, whereas riesling in the rest of Australia is typically bone dry.
Chardonnay is back in fashion in Australia, he said, "not cheap wines, but high end, more from cool sites. The excitement in Australia is for nice acidity, no obvious oak, built around acid structure with lots of nice fruit." Sounds good to me. He added most Tassie chardonnay would go through malolactic fermentation "you have to do malolactic to get balanced wines."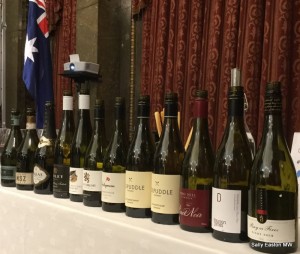 Hill-Smith went on "the emergence of quality pinot noir outside of Burgundy has been one of the most exciting themes for me. Tasmania is a really good place to grow pinot noir. It's cold. And dry. Disease pressure is lower, so you can leave fruit to hang longer for ripeness" without risk of late season heat over-ripening the fruit.
The challenge is that only 10% of Tassie wines are exported, and none of them are cheap. In the UK that means they are more likely to be found in independent merchants than the high street.
My attempt to sum up Tassie wines as I tasted through this selection: Tassie wines are something akin to bottled Spring – as though full of the youthful, fresh vibrancy, brightness, crispness and translucency of newly-formed deciduous leaves, seen against a cornflower-blue sky (well, the imagery worked well enough for me!)
Tasting notes, London, April 2016
Pirie, NV
Tamar Valley; East Coast; chardonnay 55%; pinot noir 45%. 12.5% abv
Owned by Brown Brothers. Andrew Pirie still advises.
5% of the blend fermented and matured in puncheons (500 Litre) for between 2 and 6 months. Three and a half years on lees.
Cream and lees on nose, white nuts, floral, bright fruit citrus and pastry spice. Fresh and definitely combines fruit purity and freshness. Immediately appealing with good volume of fruit. Readily approachable. The fruitiest of the three sparklers.
Jansz, Vintage Cuvée 2010
Pipers River; pinot noir 51%; chardonnay 49%. 12.5% abv
Gentle handling with partial barrel fermentation. Four and a half years ageing on yeast lees.
Peachy first nose, sweet pastry, honeysuckle, aromatic smoky note on mid palate. Fine, delicate mousse, rich intensity on palate with ginger spice and toasted notes.
Arras, Blanc de Blancs 2006
Derwent Valley; Huon Valley; East Coast. 100% chardonnay. 12.5% abv
Primary fermentation was undertaken on light lees, followed by 100% malolactic fermentation. Eight years on lees. Disgorged early 2015.
Lemon tart, curd and brioche on nose. Density and creamy spice on palate attack, big shortbread sweetness with honeyed lemon notes. Complex and layered flavours. Long, long finish. Huge and delish. Fine mousse which is retained through the palate. Still with ripeness of primary fruit which may mark it apart from e.g. Champagne. Pretty much everything you want in a long lees-aged bubbly chard.
Pooley Wines, Margaret Pooley Tribute Riesling 2015
Coal River Valley. 12.3% abv
Extended skin contact in press; cool fermentation at 12-14 degrees.
Almost bone dry, aromatic lift. Floral, lime blossom, fresh, steely, with sweet lime cordial, intense flavour. Straight and pure (not to be confused with simple), with intensity and definition. Focus on primary fruit expression with laser precision. Very nicely done.
Pressing Matters, R9 Riesling 2014 
Coal River Valley; 9g/l RS; 10.9% abv.
Steely, lime, hint of petrol, bit of sweetness offers nice balance, with some weight and roundness. Appealing.  Lovely intensity, and very long.
Josef Chromy, Chardonnay 2014
Tamar Valley; 13.5% abv
Whole bunch pressed into one-third new French oak barriques. Fermentation in barrel, with small proportions of wild ferment and malolactic fermentation for enhanced texture and depth. Barriques stirred weekly to give palate weight and complexity. Twelve months in oak.
Creamy toast nose, rich, peachy fruit, with fresh acid line, warmly toasty and upfront. Good substance and purity, bright and young. The easiest of the three chardonnays to appreciate, with gently toasted complexity.
Holyman, Chardonnay 2014
Tamar Valley; 13% abv
Fruit pressed directly into 100% new 500-litre French oak puncheons. Stirred every day during fermentation to keep as much as lees in the juice/wine as possible. The wine then remained in oak for nine months.
Bit of struck match on first nose, then steel, magnolia, fresh-cream vanilla, very smooth texture of sophistication. Elegance and depth of flavour, with light nuttiness and gentle aromatic spices. Plenty of smooth oak notes, nice vanilla toast. Delish. Full, complex and cuddly with freshness.
Tolpuddle Vineyard, Chardonnay 2014
Coal River Valley; 13% abv
Whole bunch pressed and fermented in one-third new French oak barriques. Minimal malolactic fermentation, so freshness of natural acidity was retained. Eight months in barrel with gentle stirring, then a further two months in tank on lees prior to bottling.
Lifted, citrus notes, linear, full and restrained, with fine, preserved lemon, and a dark spice note. Quite full bodied. Vanilla, ginger spices, smooth texture, with fine grain of oak tannin. Long, sophisticated and complex, with shortbread and savoury pastry. Beautifully balanced and composed.
Tolpuddle Vineyard, Pinot Noir 2014
Coal River Valley; 12.5% abv
Fermentation as a combination of whole berries and whole bunches, in open fermenters and hand plunged throughout. Aged in one-third new French oak barriques for 10 months at cool temperature (9°C). Of this, his own wine, Hill-Smith said "This one 50% whole bunch. You start to see some of that bunchiness, stemminess. You either like this character or not. We use whole bunch for flavour. In Tasmania, without whole bunch, the wines are so intensely fruity. If you want some savouriness to offset the fruit, whole bunch is one way to do this."
Bright, sweet red cherry and plum. Smooth and silky and a good degree of textural slipperiness. Intense, bright, concentrated primary fruit, with fine grain of oak vanilla spice. Young and delish. Faint earthy savoury expression here, deciduous undergrowth, bright and crunchy.
Home Hill, Pinot Noir 2014
Huon Valley; 13.5% abv
Significant proportion of whole   berries, but no whole bunches. 30% of batches fermented spontaneously by wild yeasts, the remaining were after five days soaking on skins. 20% new French oak barriques.
Crunchy, fresh, hint rhubarb, black pepper; dense and sweet black cherry and black pepper. Exceptional flavour concentration, dark and sweet and aromatic. Long and lush and lovely.  Smooth and plush, with rich, sweet, stewed fruit. Combo of succulence and savouriness.
Dawson James, Pinot Noir 2014
Derwent Valley; 13.5% abv
Combination of whole bunches and destemmed berries were transferred to small open fermenters and cold macerated before the onset of natural fermentation.  Malolactic fermentation and maturation in 40% new French oak barriques for 14 months.
Violet perfume; dark plum and black pepper nose. Sour red cherries on palate attack followed by fine, sweet texture, plush and almost viscous, velvety texture. Dark, almost brooding, within a pinot noir context. Still perfumed and silky of texture. Tarry toastiness comes on mid palate for structure and support.
Bay of Fires, Pinot Noir 2014
Derwent Valley; Coal River Valley; 13.5%
Smoky, tarry nose, with firm attack and big, warm structure. Big, bold and brash in pinot noir terms and pinot noir nonetheless.  The least exuberant pinot noir of this selection.
---
Please feel free to comment on this article