Published by Sally on July 29, 2010
5 Comments
Austria is evolving a system of appellations for its wine-growing regions.  
As France has Appellation d'Origine Contrôlée (AoC) and Italy has DOC/G, (Denominazione di Origine Controllata (e Garantita)) so Austria has developed DAC, or Districtus Austriae Controllatus (controlled Austrian districts). 
While it may take some time for the new system to bed in, one of the aims is to simplify things for consumers. This is no bad thing considering the level of fragmentation in Austria's wine growing culture – around 17,000 producers vie for 52,500 hectares (ha), giving an average vineyard holding of just 3 ha.  Factor in more than 30 different grape varieties to this picture and wine, already a confusing category, begins to resemble kaleidoscopic possibilities.
What the DAC does, is find which one or two grape varieties each region has been doing best for some years.  It then retro-fits these varieties in each region into an appellation system, enshrining in law the 'typical' style for each selected grape variety that has evolved over the last quarter of a century and longer.  
The idea is that consumers, rather than being confused by the plethora of producers and varieties, will be able to choose a DAC wine, knowing approximately what style of wine to expect, as they might do now for Bordeaux or Côtes du Rhône.
Another major benefit of an appellation system is geographic protection. The EU brought in new wine laws in 2009, effectively bringing wine under the same labelling as food, for example Parma ham can only come from Parma, Stilton can only come from three named counties in England, Jersey Royal potatoes from Jersey etc.  All have a 'protected designation of origin' or PDO. It protects a unique product/place combination.
The new wine laws effectively made all top level wine appellations the equivalent of PDO – so AoC in France, DOC/G in Italy, DO/Ca in Spain … and DAC in Austria are all PDO.  Some producers may choose to label their wines as such, while others may keep to the well established monikers.
Back to Austria …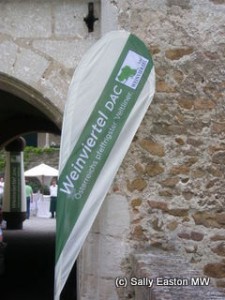 Weinviertel kicked off the DAC idea in 2002.  It is the biggest, most diffuse vine growing region with a third of the entire country's vine plantings, and with arguably one of the least well-recognised names, even now. It's easy to understand that pinning its colours to the mast of a single grape variety might help the region to develop a clearer image both domestically and on export markets, even though at least 35 different grape varieties are grown in the region.
As grüner veltliner accounts for the half the region's plantings, this was an easy choice.
Ulrike Hager, managing director of the Weinviertel wine committee highlighted the fragmentation of Weinviertel: with 7,000 producers, and only 500 of them owning more than 5 ha, finding a wine and coming back to it can be challenging. For a consumer arriving in Weinviertel and wanting to try a typical wine from the region, it is inordinately confusing.  She said "if the consumer doesn't know the individual vintner, it is easier to choose a DAC, which has a clear and distinctive tasting profile."
Certainly the region's early adoption was a strategy to improve the Weinviertel brand image, as the region had previously been better known for its cheap wines, with the exception of a handful of high quality producers, including the likes of Graf Hardegg, Weinrieder and Zull.
DAC wine must conform to certain style parameters, agreed within each region, and it is awarded on an annual basis by a blind-tasting panel. So far for Weinviertel up to 50% fail the quality taste test, which illustrates the still variable quality in this diffuse region. And it highlights that if DAC is meeting minimum standards then this must be good news for consumers.  Wines that have failed the DAC taste test are labelled just with the generic region. In the case of Weinviertel, Niederösterreich.
Any so-called 'quality wines' (one of those EU definitions, meaning PDO wines) from grüner veltliner made outside of the DAC rules in Weinviertel, and all wines made from any of the other 30+ grape varieties grown in Weinviertel must be labelled simply as Niederösterreich. The idea here is to continue to allow freedom of expression by individual growers using any of the 35 grape varieties permitted for this top level of wine – quality, or PDO, wine. 
And where the DAC is seen as aspirational, it is also an opportunity for small producers to invest in the quality of their production.  So for Weinviertel, with its historic reputation for entry level bulk wine, the benefits of DAC outweigh any disadvantages.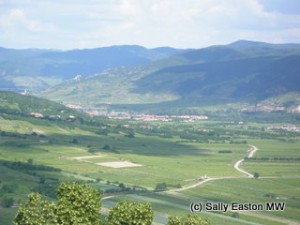 But to take part in the DAC, producers must conform to the style and flavour bracket from the permitted variety/ies, so grüner veltliner for Weinviertel. Weinviertel DAC wine must be dry, with a maximum 6g/l residual sugar and a minimum 12% alcohol. It must not have either wood influence or botrytis influence and the flavour profile must include a distinct spicy white pepper note among the fruit.  So, if it says Weinviertel DAC on the label, it should always be a gentle, spicy white-peppery grüner veltliner in a light to medium weight style.
More generally, DAC wines can be in more than one style – so far two – classic (light to medium weight, fruit focused, easier-drinking) and reserve (fuller bodied, richer, more age-worthy). Indeed, from the 2009 vintage, Weinviertel has added a 'reserve' style. The wines must retain the characteristic pepperiness, and reserve wines must be dry, more robust and richer than the classic style. Botrytis and wood notes are acceptable. Minimum alcohol is 13%.  
All DAC wines are dry, being defined as less than 9g/l residual sugar, though individual DACs may have tighter tolerances.
Outside Wienviertel…
Since 2002, another six regions have signed up to DAC.  In all but one either grüner veltliner and riesling or blaufränkisch are the chosen varieties. 
In the Danube basin, Kamptal, Kremstal and Traisental have adopted DAC for grüner veltliner and riesling, which in all three areas comprise nearly two-thirds of plantings. In all three regions, both classic and reserve interpretations are permitted.
In Burgenland, Mittelburgenland and Eisenberg have declared classic and reserve DAC for blaufränkisch. Still in Burgenland, Leithaberg has broken the mould slightly by creating DAC for red, from blaufränkisch, and white from any of weissburgunder (pinot blanc), chardonnay, neuburger and grüner veltliner, singly or in combination. 
Here's a summary of the evolving Austrian wine law
EU designation
Austrian hierarchy
Wine
Wein
(used to be called table wine)
Österreich
From anywhere in Austria.
Vintage and grape varieties can be labelled.
Country wine – PGI
Landwein 
(equivalent to Vins de Pays in France etc.)
Geschützte Geografische Angabe
 
Three zones: 
Bergland (west)
Weinland (north east)
Steirerland (south east)
 
Quality wine – PDO
Qualitätswein
(equivalent to AoC in France etc.)
Geschützte Ursprungsbezeichnung
– 35 different grape varieties are permitted.
– About two-thirds of Austria's total production qualifies as 'quality wine'.
– All quality wine has the red and white striped banderol on the top of the bottleneck, if bottled in Austria.
– Currently three groups.
 
Group 1
Four generic regions
1. Niederösterreich (32,100ha)
2. Burgenland (16,000ha)
3. Steiermark (3,650ha)
4. Wien (Vienna) (700ha)
Group 2
Sixteen specific regions within each of the four generic regions
DACs
Niederösterreich
1. Weinviertel (2002)
2. Traisental (2006)
3. Kremstal (2007)
4. Kamptal (2008)Burgenland
5. Mittelburgenland (2005)
6. Leithaberg (2009)
7. Eisenberg (2009)

Steiermark
(none – yet)

Wien
(none – yet)

Non-DACs
Niederösterreich
8.  Wachau
9.  Wagram
10. Thermenregion
11.  CarnuntumBurgenland
12.  Neusiedlersee

Steiermark
13.  Weststeiermark
14.  Südsteiermark
15.  Südoststeiermark

Wien
16.  Wien

Group 3
Prädikat wines
Later harvest wines, of increasing grape sugar ripeness.
No chaptalisation.
No cryoextraction.
No sweetening agents.
Spätlese
Auslese
Beerenauslese
Ausbruch
Trockenbeerenauslese
Eiswein 
Strohwein/schilfwein
 
Sources: Austrian Wine Marketing Board data and pers. comms., 2010.
In all of this, Wachau is probably the biggest anomaly.  This region, at the far end of the Danube, has had its own classification, controlled by Vinea Wachau Nobilis Districtus since 1984, before any idea of appellations in Austria was conceived. Here again, riesling and grüner veltliner are the dominant varieties, covering two-thirds of the region's vineyards.  However, the Wachau classification is in three style levels:  steinfeder, federspiel, smaragd.  Classic is closer to federspiel and steinfeder, reserve to smaragd.
The approach to creating a DAC is predicated on viticultural practices that have evolved over time, selecting the grape varieties that are the ones which have taken on a dominant, well-adapted position in a region's plantings. Each region has observed their own archetypal expression of their chosen grape variety/ies, and packaged them up into the DAC.  So the DAC is formalising what is evolving anyway.  Any wines meeting the DAC criteria and style paradigm, and passing the tasting panel become DAC. 
However, producers are not prevented from growing other varieties, or indeed DAC varieties, and making a style outside the parameters of DAC requirements.  Such wines are just labelled whatever is the generic region.  Thus sauvignon blanc from Kamptal would be labelled 'Sauvignon Blanc, Niederösterreich'.  Or a grüner veltliner from Zobinger Heiligenstein not conforming to DAC rules could be labelled 'Grüner Veltliner Zöbinger Heiligenstein Niederösterreich'. 
A producer's portfolio can contain both DAC and non-DAC wines.
As well as formalising part of current practice, DAC puts a regional ticket on a block of wines, the same way Bordeaux, Rhône, Rioja, Chianti and Barolo do. As in these other regions, permitted grape varieties are specified – Bordeaux is cabernet sauvignon and merlot, Barolo is nebbiolo etc. 
And it is this origin, this regional ticket, that is protected under EU law.  The DAC names are protected, so, for example, only grapes grown in Kamptal can make a Kamptal wine, but grüner veltliner grown anywhere can be called grüner veltliner.  That Kamptal DAC is grüner veltliner, and riesling, now becomes the unwritten knowledge, as cabernet sauvignon and merlot are for Bordeaux.  And as there are many different types and styles of 'terroir' in the more well-established European regions, so it is with the evolving Austrian DACs. It is not an attempt to link a particular pedo-climatic complex with a particular grape variety and style.
The DAC system brings Austrian wine into line with that existing in most other European regions, and it focuses on a few well and widely established grape varieties. For folk new to Austrian wine, it could just be a safe starting point.
---
Comments
5 Responses to "Understanding Austrian DAC labelling"