Published by Sally on June 20, 2016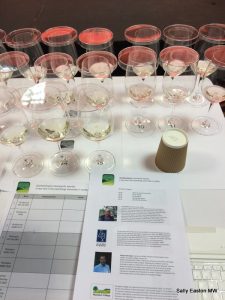 Sparkling wine production is typically the preserve of cool climates, not least because a raciness of acidity is usually a defining parameter of the best quality wines.
Research presented at the ninth international cool climate wine symposium in May 2016 by Jenny Bellon of the AWRI's (Australian Wine Research Institute) yeast breeding programme showed the results of working with new interspecific hybrids of Saccharomyces yeast.  The aim of the research was to identify new wine yeasts which ferment efficiently and which offer different flavours and aromas.
In traditional method sparkling wine production the second fermentation and subsequent maturation on the lees of that fermentation are a critical period in the flavour and style development of the wine. After the base wine has been fermented, this is mixed with a yeast and sugar solution before being bottled. The yeast ferment the sugar, creating the carbon dioxide bubble in the process. Interactions between the wine and the dead yeast cells produce the autolytic flavours characteristic of traditional method sparkling wine, such as Champagne, English sparkling wine, Cava, Franciacorta, and equivalents in the new world.
In this research, non-Saccharomyces cerevisiae yeasts were traditionally bred (not genetically engineered) with Saccharomyces yeasts to create new strains. These new strains offer new flavours as a sparkling wine matures on the yeast lees.
A series of wines were presented to delegates, which had been on lees for nearly four years. Delegates were asked to look for differences in the five sets of three wines. In each set the wine was the same, the second fermentation yeast was different.
Bellon said "for good wine, you need good yeast and experienced winemakers. An inoculate of a single yeast culture is common. It's reliable but mono-dimensional. Wild ferments are unreliable, inconsistent from one vintage to another, but complex."  To bridge that span between a single flavour profile and a more complex flavour and aroma profile, she said "you can make a more complex yeast by hybridising with a non-Saccharomyces yeast."  She added "we use mating, so it's not GMO. Then it can be used in all food and wine industries around the world." Some countries ban the use of GMO in wine production.
Phenotypic characters of the progeny were examined, both fermentation kinetics and flavour traits. For example, Bellon said "three of the hybrids showed a lag time [after inoculation], which we don't want in commercial yeast because it would allow spoilage, so they get knocked off." Various volatile fermentation products were desired, such as primary fruits and floral perfume. And non-targeted fermentation products identified, such as cheese and toffee.
The research proved chemical differences exist. It then set out to identify if sensory differences exist. Which led in to the symposium demonstration tasting … which was fascinating in its exposure of how organoleptically important and different are different yeast species.
Saccharomyces interspecific hybrids: a new tool in the (sparkling) winemaker's toolbox
All flights were tasted without discussion. Then each flight was discussed and shows of hands suggested experimental yeast AWRI 2526 was quite often preferred. It was certainly my favourite in flights 2, 4 and 5. It wasn't used in flight 1 and I discounted flight 3 because of oak dominance.
AWRI 2526 was a S. cerevisiae X S. mikatae hybrid. S. mikatae has not previously been associated with alcohol fermentation.
AWRI 1571 was a S. cerevisiae X S. uvarum hybrid (experimental yeast) S. uvarum was formerly known as S. bayanus.
IOC 18-2007 was the industry standard, commercial yeast.
My tasting notes, rapidly and briefly made:
Flight one
Wine 1 Gusbourne.  IOC 18-2007
Cream, yeast, savoury-metallic edge on palate. Hint of bitterness for me here. More baked citrus on the back palate
Wine 2. Gusbourne. PDM (EC1118)
Cream, citrus nose, savoury-metallic edge to palate attack. Medium-full body. Nice mouthfeel
Wine 3. Gusbourne. AWRI 1571
Citrus metallic nose, light freshness of attack, creamy peachy fruit too. Not so much autolytic stuff for me.
Flight two
Wine 4. Plumpton IOC 18-2007
Smoke and aromatic tar on nose. Savoury, dry bread, hint bitter note, almond maybe, in a more positive frame.
Wine 5. Plumpton AWRI 1502
Floral, perfumed, almost muscat nose, repeated on palate. Gentle, lifted style, nice concentration of primary flavours.
Wine 6. Plumpton AWRI 2526
Wafty smoke, biscuit and brioche, more classic feel to this wine. Nice balanced dimensions. Wholesome.
Flight three
(I was distracted by overt oak influences which made it more difficult to assess the yeasty stuff. We were told afterwards these were oak fermented.)
Wine 7. Bolney Chardonnay IOC 18-2007
Woody, oily note on first nose. And palate. Toasted, vanilla the main thing. And a kick of heat.
Wine 8. Bolney chardonnay AWRI 1571
Cream and toasty and white floral nose, hint oily on first palate.  Lighter body. Savoury finish.
Wine 9. Bolney chardonnay AWRI 2526
Citrus and metallic nose, savoury without redeeming sweet autolytic things. More to oil-(oak) toast. Strong and muscly.
Flight four
Wine 10. Bolney pinot noir IOC 18.2007
Palest of pink, sweet strawberry bon bon. Straight with some breadiness at the back
Wine 11. Bolney pinot noir AWRI 1571
Palest of pink. Sweet strawberry bon bon also. Something edgy on the sides of this one, a little less harmonious. Edges
Wine 12. Bolney pinot noir AWRI 2526
Palest of pink, attractive rose petal and strawberry nose; integrated and some harmony here. Rich, gentle pink flavours.
Flight five
Wine 13.  Yalumba pinot noir IOC 18-2007
Fat, oily honeyed nose, broad, fat sweet sensation to the mousse. Not wholly enjoyable.
Wine 14. Yalumba pinot noir AWRI 1571
Smoke and rich autolysis on nose, bread, sweet pastry and oiliness too. Full body, broad mousse texture. Ripe fruit. But overall, mouthfeel is decent
Wine 15. Yalumba pinot noir AWRI 2526
Smoke, bread, dry toast nose, baked strawberry fruits, sweet core, good concentration of flavour, rich mouthfeel.
---
Please feel free to comment on this article