Published by Sally on April 12, 2016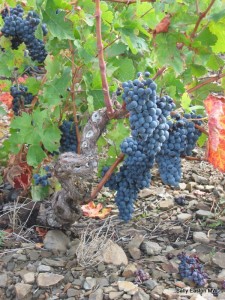 A version of this was first published in the April 2015 issue of The Drinks Business. 
"Many growers say their best wine is produced from their oldest plots … [and] oenologists are convinced the best tank they get every year comes from the old plot – from Château Ausone, from Château Mouton Rothschild, and in many Languedoc vineyards, especially about carignan" said Alain Carbonneau, professor emeritus of viticulture at Montpellier SupAgro. Authoritative anecdotes abound that regale us with the glory of wines from old vines, but science has yet to illustrate that experiential appreciation is based on measurable parameters.
How old is old?
But what is old, even? There's no agreed, regulated definition of 'old vine' anywhere around the world. Intriguingly, it is the new world that has been taking this particular bull by the horns, looking for acceptable norms that might be used when describing wines made from vines that are "of an age". See Old Vine Charters.
Commercial reality dictates that vines be regularly replaced. But some vines survive: humans have elected to keep certain plots of vines for some reason. Presumably not just for altruistic reasons but also because profitable wine can still be made. François Dal of SICAVAC in the Loire valley summarised: "older vines need more work for less yield. The only interest to preserve old vines is the quality of the wines produced."
Peter Clingeleffer, group leader at Australia's CSIRO Plant industry said "while rare, in Australia there are vines that are one hundred years old that are still in production. However the economic life of a vine is generally considered to be around 40 years, provided there is still demand for the fruit. In contrast, 25 years would be considered to be the economic life of a vineyard in Europe." It's a similar picture in South Africa, where viticulturist Rosa Kruger said "the life expectancy of vineyards in South Africa is 20 to 25 years before they become not economically viable." And in Chile, where Mario Pablo Silva, the managing director and CEO of Vina Casa Silva, added ""After 25 years the plant starts to show the effects of age – a progressive decline in production."
If vines are kept beyond this economically viable 25 to 40 years, can we call them old? In the central Loire, the BIVC's director Benoit Roumet said "most producers who use the term vieilles vignes do it with a minimum of 30 or 40 years old." Fernando Almeida, winemaker for Miguel Torres in Chile agrees, saying "an old vine has to be at least 30-40 years old."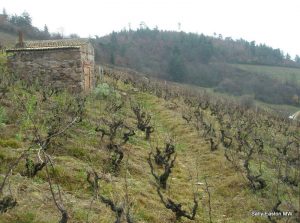 Going underground
Somewhere around the age of 30-40 years a vine falls away from maximum productivity, but might be retained because of high quality, marketable fruit. By this age, said Eben Sadie, of Sadie Family Wines in South Africa, "an advanced root system is established."
Clearly a young vine needs to establish roots. Carbonneau said we "can assume wine quality is not optimal until the vine has aged enough. A vine requires a minimum of 5, 6, 7 years to be fully established … permanent roots are established 6-7 years after planting."
A step change at some point after a decade is mooted. Carbonneau said "there is no experimental proof that very old vines, 30, 50, 70 years old, produce better wines than a balanced, well-trained, 12-year old vine".  Dr Yerko Moreno, director of grape and wine research centre, University of Talca, in Chile also pinpointed balance, saying "if you are at the right site (soil and climate) you can also produce high quality wines coming from 10 or 12 year old vines as long as you are able to achieve a correct balance between crop load and vegetative growth."
Sadie, who makes eight, single vineyard, old vine (50-150 years), wines, said "the development between canopy and roots is disproportionate in young vines. Roots grow slower than vigour. For roots to grow you need vigour on top to absorb energy from sun. This may be the case for the first 15 years on average, though every soil is different."
Thus balance is argued to improve with age. Pablo Morandé, the winemaker and founder of Morandé Wines, suggested balanced vines really register over 20 years, depending "on conditions, terroirs, density and management." The confounding variables are manifold and potential wide-reaching. Brett Jackson the chief winemaker at Vina Valdivieso, said 20 years marks the approximate point from which wines are "extremely consistent in quality and yield." And, added Prue Henschke, of Henschke Wines in Australia, between about 20-30 years old there is a "slow build-up of more mature varietal flavour and structural characters. Tannin and textural maturity in 30+ year old vines is most obvious."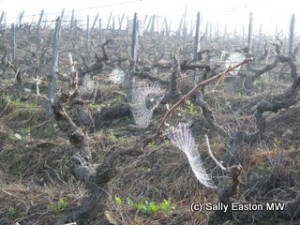 Roots and reserves provide balancing points. Marcelo Retamal, the chief winemaker at De Martino said "the younger the vine is, the more affected by vintages it will be, as roots will be more superficial. In warmer years vineyards will be much more affected and therefore have a strong influence in the quality and style of the wines. In my experience, in vineyards over 30 years in some areas in Chile, you can see that its roots are deep enough if there are no soil difficulties. The stability in quality and wine style is much more even from year to year."
Water stress is a recurrent theme. Dal said "old vines have a better root system, deeper and developed over a significant area. They have more wood and therefore more reserves … [which give] … "old vines the best adaptability to climate changes and a more regular water nutrition than young vines." Carbonneau added when water is limited, there can be "some difficulty for grapes to mature. Then the vines which are not adult enough respond too much to such stress."
On this basis old vines may find a preferred place in a more sustainable world. Yerko said "old vines require less irrigation as their root systems are deeper and well expanded in the soil. Canopy management is also limited due to the fact that they are less vigorous. Disease management is similar to younger vines except for the presence or wood diseases that force the replacement of dead vines by means of layering or replanting."  And in the Barossa, Henschke said "Many old vines have survived without irrigation and have extensive root systems that act as a buffer in less favourable seasons. In drier years the deeper roots are more active, keeping the canopy supplied with moisture and nutrients."
Pests and diseases
Pests and diseases are contra-indicated for old age. Almost by definition old vines have survived disease pressure. Clingeleffer said "vine longevity may be impacted by soil borne pests such as nematodes and phylloxera, termites, trunk diseases (e.g. Eutypa) and virus diseases."
Quite often wine quality may also affected by disease. Jackson said "young vines' lack of reserves make them more susceptible to diseases and pests such as powdery mildew and spider mites, which can both have extremely detrimental effects on both fruit quality and long term longevity of the vine." Yerko added "An old vineyard with a high proportion of vines contaminated with wood disease fungi will definitely produce a lower quality wine – less colour, dry/harsh tannins."
Leafroll virus is a major problem in South Africa, but, said Kruger "wine quality from older vines seems to be less influenced by leafroll; older vines seem to show more resistance to disease. But not always." In the Loire, Dal also reports a conflicting picture for virus: "older vines contain more viruses than younger ones. Viruses can sometimes affect the quality but they also often have a good repercussion on the quality and the complexity of the wines."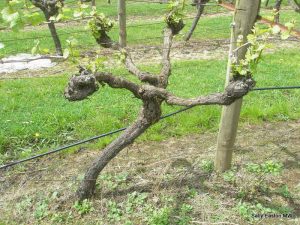 Style and quality differences
Time can be outlasted by healthy vines with well-established, deep, root systems, aided and abetted by humans who see particular marketable attributes from the lower-cropping fruit. What is it about the fruit that keeps humans motivated?
"In blind tastings", Carbonneau said, "it is quite often the oldest plot that gets the first place. Wine coming from the oldest plot is perhaps better not because it is richer and more intense, perhaps it is more delicate, more persistent, more complex, it is difficult to define." This occurs across grape varieties, he said, though it may be truer for late-ripening cultivars such as cabernet sauvignon in Bordeaux or carignan in the Languedoc. Carbonneau speculated that full maturity may be harder to obtain in such varieties, implying full maturity is more regularly obtained on old vines. Morande suggested these two grape varieties in Chile also offer more sophisticated, rich and complex wines from old vines.
In the Loire, Dal said old vines give wines with more "minerality, more concentration and complexity, less varietal flavour. People can prefer young vines when they want a lot of varietal flavours on a young wine. This style is sometime actively sought in New Zealand for example." Indeed Chris Seifried of Seifried's in Nelson, NZ said of his sauvignon blanc: "young vines are the most expressive, intense and exciting. The first three or four years are vibrant and loud." He added crop level is also low in such young vines.
Vine age is argued to add layers to vibrant varietal flavours. Yerko said "initially tannins, depending on the site, tend to be more aggressive and fruit characters more straight forward. As the vines age fruit characters are more complex.  … if not overcropped, fruit can be more complex and concentrated." Almeida notes "deeper flavours, stronger character, more elegant wines, longer aftertaste, more typicity,"
Added to complexity is consistency, which is, said Sadie "one of factors in great wine production. Great wine through warm, cold, wet, or dry vintages. Old vines give much more consistent quality throughout."
Some also argue for greater terroir expression from old vines. Almeida said "both new and old vineyards show their origin in the quality of theirs grapes. But this characteristic is enhanced as vineyards get older. Less cultural intervention of the old vineyards allows origin to show more clearly." Kruger agreed, saying "old vines show their terroir more mainly because they have adapted to their specific terroir and are more adapted to the climatic stresses of their environment i.e. they hardly ever have a crop they cannot ripen for the season, they hardly ever collapse completely in a heatwave and lose their leaves etc."
However, advancing vine age is not, of itself, enough to guarantee high wine quality. Retamal said "there are old vineyards that give great wines and other old vines that give very bad wines." By example, he said "many years ago I found a very old [over 150 years] vineyard in Maule Valley. It was cabernet sauvignon. It was dry farmed, bush vine, amazing. It turned out to be a bad wine. What was the problem? It was planted in a very warm area for cabernet sauvignon, a variety that doesn't like excessive heat." The argument returns for cultivar matching to sympathetic sites.
See here for Old Vine Charters.
---
Please feel free to comment on this article