Published by Sally on June 25, 2012

Didier's father sold his Faugères fruit to the local co-operative until 1992.  Then Didier bought his neighbour's cellar and made his first vintage under his domaine name of Domaine Léon Barral in 1993.
Barral now owns 33 hectares, plus 20 hectares of land which is fallow for pasture, for his philosophy on the monoculture that is grape-growing and wine-making is that it is impossible to make organic wine in a monoculture. Barral said "the balance is possible if you have a diversity of plants and forest.  My solution is to have different plants – wheat, cereals, olives, apricots, peaches, and hedges," which act as habitats and biodiversity by-roads for a plethora of wild life. He also has a lot of animals.  This is a man who has evidently never done things by half.  The hedges, or the dead tree outside his cellar, he said, may be a good place for a bat to sleep, and he wants bats because they predate on the parent moths of vineyard pests.
His adoption of organic farming with biodiversity has evolved experientially since he set up. He described sea-change moments that altered his thinking:
Barral's third vintage as a domaine, 1995, was a drought year when just 27mm of rain fell between December 2nd and August 17th. Vine branches were short and grapes were like "petit pois. But it was good for the vintage because there was more skin for tannin, flavour and colour" he explained "and at the end of the harvest three vats had more acidity and were better than the others.
"But I didn't understand why there was more acidity in the wine until I was ploughing during April and May 1996." He made a link between acidity in the wine and permeability in the soil. There was a lot of rain in 1996, and Barral ploughed his bush vine vineyard both ways, not just up and down in rows, but across too, and, he said, he found more acidity with the greater percolation of water that this criss-cross ploughing achieved.
His second eureka moment, in 1996 and 1997, followed his observation of "puddles in his neighbour's flat vineyards and no puddles in the mountains." Barral described three moments of comprehension about mountain soils.  He said "trees have time to be immobile. Roots drain the soil to 10 to 20 metres." Secondly insects move horizontally in the soil to a depth of 1 to 2 metres, and they make a lot of underground channels. Thirdly he said "earthworms are the best, they're up to 30cm long and can go 5 to 6 metres deep."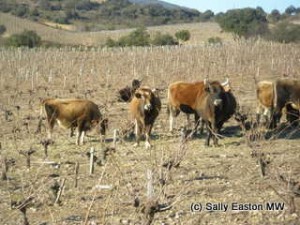 This knowledge led to his third eureka moment: "when you plough, you kill the roots, the insects and the earthworms."  But ploughing is important to kill the competitive grass between the rows. Cutting the grass is no good because it just grows back.  In a Mediterranean climate he said "in May, June, July, if you have more competition, you accentuate the drought."
So the quest became how NOT to plough. Until he discovered a Brazilian system that rolls and breaks the stems of the grass, which then forms mulch.  This mulch also, Barral said, provides protection from desertification. He reckons sun cooking the earth is a worse erosion risk than rain.  "In the past" he said "there was a lot of shade in the vineyard because of the gobelets (bush vines)" and the shade offered protection to the soil.  With trellises he said "at the sun's zenith in summer, from 11 am to 3pm, it is directly over the soil," which allows severe drying of unprotected soil.
Animals have also been incorporated into Barral's biodiverse viticulture, and he now has a horse and 30 cows. In winter the cows "do the first pruning, and save the equivalent of two workers per month for three months."  He's adjusted the number of cows so that there is enough winter pasture for them all on his farm.  And of course he can't let the cows roam the vineyard during budburst, so this is when he uses the roller/stem crusher.
His vineyard is a bucolic scene with huge feel-good factor. But this is no glossy cosmetic. It is the evolution of a painstakingly thoughtful man. Barral mesmerises with his appealing fervour about the benefits of such an holistic (or merely pre-industrial?) approach.
Tasting notes, in situ, February 2012
Tasted in too much of a hurry after the viticultural treatise. There's no new oak in his winemaking.
Domaine Léon Barral, Jadis 2009, Faugères
14%. carignan, grenache, syrah, bottle one month ago.
Smoky aromas, fresh and lively palate attack, full of 'purple' flavour, dark berries of notable density, with a fine, upright structure and mien.
Domaine Léon Barral, Valinière 2007, Faugères
14%. 80% mourvèdre, 20% north-facing syrah
Sleek black fruit, black pepper spice, smooth and chalky fine tannins. Proportioned. Elegant. Delicious.
---
Please feel free to comment on this article