Published by Sally on March 24, 2013
2 Comments
Thierry Navarre, of his eponymous Domaine Navarre, in Roquebrun, Saint-Chinian, has made something of a mission of not just preserving ancient Languedoc grape varieties, but making commercial volumes of them.
The two most promising he's working with are both red and both ripen without too much alcohol in the system. They make up about half the total production from his domaine's 12 hectares. Neither is so exotic as to fail to make their presence known in über wine grape book "Wine Grapes". And Thierry Navarre features in entries for both grape varieties as a particular exponent.
Rybeyrenc gains access under a different spelling – ribeyrenc (and with numerous synonyms, although it is apparently better known as aspiran noir). Navarre explained rybeyrenc is a variety that was "traditionally grown between Minervois and Clermont l'Hérault, but it died out with phylloxera." All was not lost as his grandfather had some vines.  The cultivar is well adapted to the Mediterannean climate, and intriguingly it ripens late – usually a recipe for high alcohol – but, Navarre said "at 11.5 to 12 degrees." He said it's always picked last at the end of September, and at 11.5 to 12%.
The wine from his other native Languedoc variety, oeillade, Navarre describes as "having a lighter, fruitier profile without too much alcohol." There is some distant relationship with cinsault. This is another local variety with the – now trendy – advantage of modest natural alcohol.
Perhaps their modest alcohol, and evident quality in the hands of Navarre, offers them a wider future?
Tasting, in situ, March 2013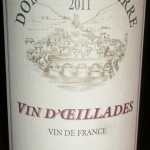 Domaine Navarre, Vin d'Oeillades, 2011 Vin de France €7
12%. Medium pale, bright cherry colour, with red cherry and cranberry perfume. Ditto the attack, fresh with light tannins, good density of flavour, plus a bit of liquorice stick. Gentle balance with a big flavour hit, crunchy and fresh. Straight down the line, and with added texture, an imperceptibly felt grip to the core.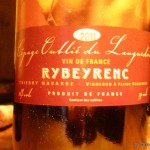 Domaine Navarre, Rybeyrenc, 2011, Vin de France €8
11%. This goes into old barrels, for up to 10 months. Medium pale cherry colour. Smoke and tarry nose, with cinnamon-spiced cherries. Medium bodied with fresh and crunchy cherry fruit, smoothly textured, with aromatic spices on the mid palate. Good density and length.
My research visit to Saint Chinian was sponsored by the Syndicat du cru Saint-Chinian.
---
Comments
2 Responses to "Rybeyrenc and Oeillade – Languedoc past and present"
Louise Hurren Says:
March 24, 2013 at 12:02 pm

Hi Sally, thanks for this thoughtful post. The Saint-Chininan appellation certainly has a great many producers making wines of note, but I think Thierry Navarre is very much in the minority with his championing of lesser-known grape varieites, and I'm glad you were able to give him some exposure. You and others might like to know about this association which has similar aims http://cepages-modestes.fr/

Graham Tigg Says:
October 16, 2013 at 9:47 pm

Not sure how I missed this. Have been enjoying several bottles of Thierry's Rybeyenc we found in a caviste in Gignac. Lovely tasting note.