Published by Sally on May 29, 2012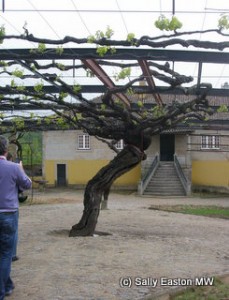 I think this is the first time I've set eyes on a four hundred and fifty year old vine, and pretty substantial it is too.
It's owned by producers Solar do Louredo in Portugal's Vinho Verde region.  It's a traditional black grape variety, we're told, no surprise there really, – doçal, pronounced 'do-sarl', meaning sweet.
The small amount of fruit it still produces goes into one of their blends.
---
Please feel free to comment on this article