Published by Sally on June 17, 2012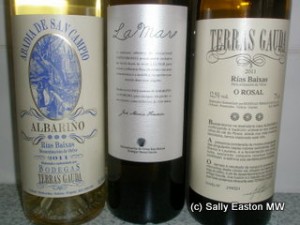 Bodegas Terras Gauda, in north west Spain, are making some extraordinarily good wines from the local Rias Baixas grapes. As well as the well-known albariño grape, they use loureiro (also found in Portugal's Vinho Verde just a little further south), and intriguingly, they have taken the near-extinct caiño grape to their hearts, working to save this disappearing local white variety.
Caiño is a late ripening and low-yielding variety, which keeps its acidity well.  It's the last one this producer harvests, and they account for some 90% of all the caiño grown in the region. From it they make their La Mar wine, the first vintage of which was the 2009.
Part of the philosophy since the start, in 1989, is to blend albariño with a varying proportions of these other local grape varieties to offer different expressions. Their flagship wine, O Rosal, had 20% loureiro and 10% caiño blanco in its 2011 vintage. They also make a 100% albariño.
A reductive winemaking philosophy using indigenous yeasts and stainless steel is adopted to accentuate the fresh, aromatic depths of these varieties.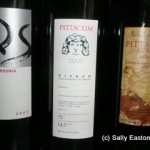 Terras Gauda is a sizeable operation.  The company's 160 hectares are located in the O Rosal valley at the seaward end of the river Miño, with vineyards lying between 50 and 150m above sea level, on rolling hills right next to the forests.
In addition, they have also owned the eight hectare Bodegas Pittacum in Bierzo since 2002, and the similarly-sized Quinta Sardonia in Ribera del Duero since 2010.
Tasting notes, UK, June 2012
Bodegas Terras Gauda, Abadia de San Campio Albariño 2011, Rias Baixas ~ £14
12.5%. Fragrant nose, green apples, pears, white peaches. Silky smooth palate shimmers across the tongue with similar fruit flavours, juicy-dripping ripe, with hints of tropical pineapple. Fresh and lifted with a refreshing acid line to its frame. Very nicely balanced, with very good fruit volume.  It's not designed to be complex, but there's plenty of lovely flavour volume and intensity. Vg
Bodegas Terras Gauda, La Mar 2010, Rias Baixas ~£12
12.5%. 85% caiño blanco, 10% albariño, 5% loureiro.  Ripe, musky perfumed notes on nose, peach blossom, honeysuckle and passion fruit. Rich, full palate without being weighty and full bodied – just full volume of ripe, plush Mediterranean frits, with hints of honeyed herbs. Super intensity of flavour and concentration, with an aromatic nutmeg spiciness coming through on the back palate as a note of complexity creeping into this serious wine. Round, velvety texture, with substantial fruits. Vg
Bodegas Terras Gauda, O Rosal 2011, Rias Baixas ~£15
12.5%. 70% albariño, 20% loureiro, 10% caiño blanco. Apple, white nectarine, lemongrass on the floral nose. Almost a chalky note to the palate framework, long in-palate length, with complex fruit notes and a freshly delineated profile. Upright with citrus pithy notes among the soft-fruit juiciness of white nectarine, and baked green apples. Refined palate balanced with refreshing clean, long, finish. Also vg.
Quinta Sardonia 2007, Vino de la Tierra de Castilla y Leon
Grown at 800 to 900m asl in Valladolid. A melange of 52% tinto fino, 26% cabernet sauvignon, 9% merlot, 5% syrah, 4% petit verdot, 2% cabernet franc, 2% malbec, all done in French oak, 50% new. 15%. Deep ruby colour. Deep bass musky notes of dry-baked blackcurrants, blueberries, mulberries and earth combining in expansive perfume with violet notes too. Enticing ripe, rich, plush, juicy primary fruits framed in a gentle vanilla-spiced toastiness of attractive oak influence.  Bucket loads of immediate flavour here, all those juicy black – fruited things with black pepper spiciness and warmth thrown in too. Be careful of the almost invisible 15% alcohol, this is too gluggy for such a big wine.
Vinedos y Bodegas Pittacum, Mencia 2007, Bierzo ~£12.50
14.5%. 8 months in oak barrels, French and American. Deep ruby colour with purple hints. Aromatically spicy nose of dried strawberry and raspberry leads into liquorice-laced palate with a savoury graphite note amid dry baked forest berries. A ripe, plentiful, and supple, tannic frame holds the flavours of this full bodied together. Plush blackcurrant and blackberry fruit on the palate creates a more-ish quality. Again beware the entirely integrated alcohol. Tasty.
Vinedos y Bodegas Pittacum, Aurea Mencia 2007, Bierzo ~ £30
14.5%. 14 months in oak barrels. Aromatically tarry, smoky nose with fresh leather and beef-steak nuances. Dark, black fruits emerge on the palate in a smooth-textured wine of serious concentration and full body. Plentiful, youthful sandy-grained tannins still melding their way together over the next couple of years. Huge concentration without making it too powerful (again the alcohol is extremely well balanced). Plush, near-velvet textured, big bold black berry fruits, with leather and gamey notes just beginning to nuance into this complex wine.
---
Please feel free to comment on this article