Published by Sally on November 2, 2011

| | |
| --- | --- |
| Title of book: | The finest wines of Rioja and north west Spain: a regional guide to the best producers and their wines |
| Author: | Jesús Barquín, Luis Gutiérrez, Víctor de la Serna |
| Publisher: | Aurum Press |
| Publication date: | 2011 |
| ISBN | 978 1 84513 6932 |
| Pages: | 319 |
| Price: | £22.00 |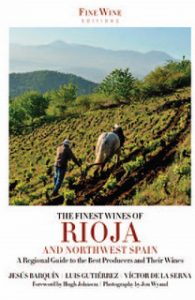 It's not the snappiest of book titles, but it does do what it says on the tin. It's the fifth book (Bordeaux, California, Champagne, Tuscany) in a series of similarly titled tomes from the team at magazine "the world of fine wine", this one written by respected experts on Spanish wines.
There is a small first section introducing the regions of the title, their physical environment, grape varieties plus practices in the vineyard and winery. It then provides producer profiles of around 85 of the finest producers, including a detailed mention for each producer's finest wines, of the title.
Five regions fall under the remit of the book:  Rioja, Navarra, Bierzo, Galicia including Rías Baixas and the north coast – Basque country or the Cantabrian coast – those regions "under the influence of the Atlantic", the preface explains.
Not unsurprisingly, some two-thirds of the book centres on Rioja, with the other regions vying for the remaining third, but Rioja's continued pre-eminence in the wines of Spain undoubtedly justifies this split. I was left wanting more about the other regions, but perhaps this is simply because I feel at least a little familiarity with Rioja.
The authors do dissect modern Rioja's issues before embarking on their producer profiles. We learn a little about its three sub-regions – Rioja Alta, Rioja Alavesa and Rioja Baja, where climate seems to be the easy bit, with one end more Mediterranean influenced and the other more Atlantic influenced. But the three main soil types do not correspond neatly with the three sub-regions, though Alavesa does seem to have the premium on clay-limestone soils, whilst Alta mixes iron-clay soils with alluvials.
We're brought up to speed on the developed dichotomy of Rioja style between 'classic' long, old-American-barrel aged wines and the 'new' style based on new French-oak maturation.
In the other regions, it was good to read that the legend linking albariño with riesling has been dispelled by DNA analysis. Given albariño's level of genetic complexity, a Roman origin is mooted for this and other local varieties including godello and treixadura.
It is these regions in north west Spain, those sitting in the corner above Portugal, where some of Spain's most innovative wines are being made. We are all-too-briefly introduced to leading lights of this corner of the country, the likes of Ricardo Pérez Palacios, Raúl Pérez (both of Bierzo) and Soledad Bueno (Rías Baixas), as well as to the numerous local grape varieties.
Given its format of short introductory sections followed by 2-3 page profiles, this is a good book to have lying around for quick, five-minute reads on producers, each profile given life and colour by the plentiful and thoughtful colour photographs of the people and their places.
---
Please feel free to comment on this article