Published by Sally on May 8, 2012

A version of this article was first published in the Drinks Business, February 2012.
After 20 years on the wine scene, are synthetic closures in danger of becoming an evolutionary dead end?  Nomacorc are the second largest closure manufacturer in the world, after cork stopper producer Amorim, selling a projected 2.4 billion units in 2011, but the synthetic category has experienced significant consolidation in the last couple of years, to the extent that Malcolm Thompson, vice president of marketing and innovation at Nomacorc now says "Nomacorc pretty much is the synthetics category."
Supremecorq folded in early 2011, following on from Australia's NuKorc in 2010. Neocork was bought out by its primary material supplier Tasz in 2010.  Gualaseal has been bought up by its creators and renamed ArdeaSeal. Consolidation in the sector is a real issue, and not just for synthetics.  Brand leading screwcap Stelvin is now owned by Amcor, and Guala Closures Group, maker of the WAK screwcap, has also been acquisitive. And in Portugal "over the last 10 to 12 years" said Carlos de Jesus, APCOR's director of international cork campaign, "over 200 cork companies have merged, been acquired or closed."
Supremecorq had been founded in 1992.  Nomacorc, a relative parvenu, only sold its first stoppers in 1999.  With a co-extruded, rather than injection-moulded, technology, the company quickly rose to leadership in the synthetics sector.
Industry consultant Richard Gibson, who had been working with NuKorc, which at the time had been the world's second largest synthetic stopper manufacturer, cited external factors for that company's demise, linking "production in the wrong geographical location – Australia was not the right place – and a shift in Australia's currency value against the US dollar."  He added "in Australia synthetics were dead seven years ago, with the only products using them going to the USA."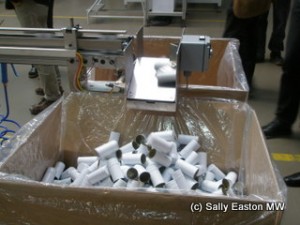 Indeed, leading Australian brand Yellowtail from Casella Wines, uses synthetics for the USA market, while the Aussie and UK markets are stoppered with screwcap.  Casella's chief winemaker, Alan Kennett, said "the acceptance of screwcaps is higher in Australia and the UK than it is in the USA where they still like wine to be bottled under some kind of cork-like closure."
The USA vies with France as the world's biggest market for wine, so consumer preferences there have a significant effect on closure market shares.
But no market is static as technological developments create new trends. So while the reserve Yellowtail range is under screwcap for Australia, "about three years ago" Kennett said "to extend the shelf life of the reserve products we changed from a synthetic to a technical cork" for the USA market because "the use of a particular washing process meant that the technical cork no longer posed a risk of cork taint and it also had excellent sealing performance and oxygen ingress prevention."  Kennett added it had taken Casella "a long time to move to screwcap because of the number of reductive wines, but we now have a very good closure."
For synthetics, a couple of technical issues still concern industry members. Difficulty of extraction and ease of re-sealing were original challenges of synthetic stoppers and they are still cited as a problem, especially at the lower end of the market, said Clem Yates MW, Sainsbury's winemaker and product technical manager.  She said "we have three preferred suppliers – Amorim for cork, Nomacorc for synthetic and Amcor for Stelvin screwcaps, and we specify a type of closure in agreement with suppliers."  But, she added "wherever we see synthetics we'd probably want to move to screwcap. From a quality perspective I've yet to be convinced that synthetic closures don't have a problem with oxygen ingress."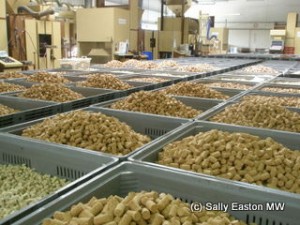 Consultant Gibson also holds this view saying "oxygen transmission issues are so well known, that people are steering clear of synthetics for anything that's going to stay in the bottle for longer than 12 months." He said "good winemaking is about getting enough oxygen into the wine, for particular styles, in the cellar. Once the wine's in the bottle it shouldn't need oxygen to develop. To rely on oxygen entry through the closure to carry out maturation of the wine is an immensely risky policy. It can't be controlled because the amount of time wine spends in bottle in the marketplace is something that's out of everybody's control."
On the other hand, as packers have become more familiar with the limitations and requirements of screwcaps, issues relating to reduction have lessened, though by no means gone away.  Screwcaps have also become more competitively priced, adding to their simplicity of use. Sainsbury's began to review their closure policy about four years ago, and it has resulted in a significant shift. At that time, Yates said the wine range "was roughly 60% synthetic. Now we're about 60% screwcap and 40% driven. And of the driven, about 75% are cork. This is a factor of quality, and the cost of screwcaps coming down.  Where historically we used synthetic, we can now get screwcap compatible bottles and screwcaps at roughly the same price."
The Co-operative shares a similar story. Their technical manager for beverages, Ian Rogerson said "we have made a conscious effort to move away from synthetic closures for own-brand wines [though] we remain open to using synthetics providing they perform in a satisfactory manner."
Producers and brand owners face similar balancing decisions over closure policies. Synthetics were a temporary phenomenon at Diageo for their brands Piat d'Or and Blossom Hill.  Their wine development manager Tim Davies said "we went from cork to synthetic in June 2005, then changed to screwcaps in 2008 for Blossom Hill and 2009 for Piat d'Or.  [Synthetics] are not as consistent or convenient as screwcap [which] is viewed by consumers and customers as beneficial both from a quality and an ease of pour perspective."
In Chile, said Adolfo Hurtado, the managing director of Cono Sur "we were the first winery in Chile to use synthetic [stoppers] back in 1995.  During those times, natural cork was giving too many problems with cork taint. It was a logical decision for some of our wines – we thought that synthetic offered more quality than natural cork during those times.
"Then in 2001, we were the first Chilean winery to use screwcap in our premium wines. We prefer screwcap on our premium whites to keep them fresher and younger for a longer time, and we keep natural cork only for our premium red wines. But we dropped synthetics about four years ago, because we prefer to use screwcap on all our more competitive varietal wines that are consumed quickly, in the following six to eight months."
Cono Sur parent company Concha y Toro still uses synthetics, though Marcelo Papa, their head winemaker, said "synthetics are by far the least used. We are going strong with natural cork and screwcap, but in this case it depends a lot on the destination country. There is still little confidence with screwcap in reds in some countries that represent an important percentage of our sales." He added "there's a lot of pressure for screwcap from Australia and the UK, [but] the USA, Belgium and South America like natural cork, except in some varieties such as sauvignon blanc."
Back in the UK, Accolade Wines (ex-Constellation), has Europe's biggest wine facility near Bristol, packing the company's own brands including Hardy's VR and Stamp, Echo Falls, Stowells, Kumala and the core Banrock range which include five of the top 10 UK wine brands, as well as contract packing for third parties.  It embodies the UK's whole-hearted adoption of screwcaps.  Since the plant went into production in 2009, a spokesperson said, "so far we have been bottling with screwcap only."
Another UK bottler, Kingsland Wine and Spirits, stopped using synthetics in 2006, due to "leakage and extraction issues", said their supply chain director, Michael Forde, adding, we "have used several synthetic corks in the past but they all suffer from a lack of elasticity compared to a natural cork. We decided the best route to resolve the issues of [cork] taint and [synthetic] leakage was to move to screwcap. From the start of 2012 all wine filled in glass bottles at KWS will have a screwcap finish as this option has delivered a significant reduction in consumer complaints."
Despite these stories, Nomacorc's Thompson politely dismissed the idea that synthetics might be squeezed out of the market, saying the company had experienced double digit growth every year but one since the turn of the millennium. He puts down the company's growth squarely at foot of the co-extruded technology they use.  He said "mono-extruded and injection moulded closures are exiting the market," adding that Nomacorc's "share of the synthetic category is 70% plus, now." Alone, Thompson estimates Nomacorc accounts for 11-12% share of the global stopper market.
Others make different predictions.  APCOR's de Jesus said "in 2010 exports of cork were up by over 8%, which is growth larger than the growth of the wine industry, so cork gained market share for the first time in a decade from both synthetics and screwcaps."
Papa reckons synthetics have peaked, saying "I think synthetics will go down in the next years. Technically synthetic is not better than the others. It tries to look like cork but it isn't.  I think natural cork, screwcaps and technical corks [micro-agglomerate /glue combos] will capture the market."
Gibson was more definite, saying "I think the demise of synthetics is inevitable as consumer resistance to screwcaps reduces," adding "screwcaps with a saranex (not tin) liner are great for commercial wine and more reliable than a synthetic. They give good protection against oxidation and avoid the reduction risk that can occur with higher oxygen barrier caps."
---
Please feel free to comment on this article