Published by Sally on August 22, 2011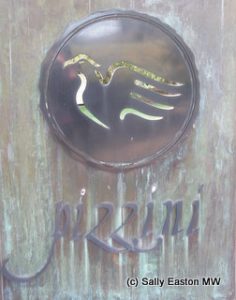 The King Valley in Australia's Victoria attracted several migrant families from Italy, who later moved into the winemaking traditional to their homeland. The Pizzini family were one of those pioneers of grape growing and winemaking, and they are renowned for growing several Italian grape varieties.
Owner Fred Pizzini emigrated from Alto Adige, with his parents, sister and brother in 1956. They very soon settled in the King Valley. Fred's property is located at the higher altitude, southern end of this north-south orientated valley, where vineyards verge onto the foothills of the Southern Alps, the highest at around 860m, though many are around half that altitude, some 300 to 400m.
With encouragement and grape contracts from Brown Brothers, whose home is still at Milawa at the north end of the valley, near Wangaratta, the Pizzinis, who were quickly becoming ex-tobacco farmers as that market collapsed, planted their first commercial vines in 1978 – riesling and chardonnay, for Brown Brothers.  Stalwart grape varieties cabernet sauvignon, shiraz and sauvignon blanc soon followed, and over the next decade they also introduced Italian varieties, planting some of the first nebbiolo, along with sangiovese, pinot grigio and arneis.  Fred said it was in 1991 that they had their first barrel of nebbiolo.
Fred and wife Katrina now have 70 hectares of vineyards on their 280 hectare farm "and still quietly planting" said Fred, adding that while there are many micro-climates in the King Valley, the "climate is suited to medium bodied styles that are more delicate in style. While the north [of the valley] is warmer and dry, the south is cool at night in the growing season." It's just one and a half hour's south to the snow, he added.  And while growing season temperatures may be in the mid 30s°C during the day, Fred said they can get down to 14-15°C at night, which helps keep the grapes' natural acid.
Their wine business is a real family affair. Eldest daughter Natalie is in charge of marketing, wine events and the wine club, while son Joel is winemaker. He includes four vintages in Italy on his CV, including at top Chianti producer Isole e Olena. And Katrina runs a cookery school in an expansive kitchen area adjoining their smart cellar door tasting rooms.
In good Italian style, the family make more than a dozen different wines, and it's the Italian varieties – pinot grigio, sangiovese and arneis, plus their nebbiolos, that make up a big chunk. Fred puts down part of the success of his wines from Italian grapes to "the drinkability of the grape varieties."
Not that all the vineyards are the same, and Fred is clearly proud of one patch of sangiovese which he said "is particularly good – it has a slightly different gradient, the soils carry less rock, it's tighter grained.  It's more of a clay loam than volcanic soil and the wind is different.  It might see a bit more sun, and it produces consistently good fruit." In contrast he said, the vineyard on his north-east facing slope has "deeper clay, more volcanic soil, which is more robust, more powerful."  And his nebbiolo vineyard, which tops out at 400m above sea level, he said "is 2.5°C warmer at night than the valley floor, and 2.5° to 3°C cooler during the day than the valley floor."
Such detail shows an admirable terroir-istic grasp of his vineyards.
Wine tasting, in situ, October 2010
Pizzini, Pinot Grigio 2010, King Valley
12%. Apple, pear, melon, intense fruit attack of sweet fruit. Dry wine, fresh, intense, thoroughly decent.
Pizzini, Arneis 2010, King Valley
13.5%. Apple skins and lime grass. Very clean, nicely fresh, more backbone than the pinot grigio. Really tasty.
Pizzini, Verduzzo 2010, King Valley
Whole bunch pressed, and a portion barrel fermented, rest in stainless steel on lees.
Lovely creaminess of texture, with the focus all on fresh white fruits, with tight structure and good backbone. Good.
Pizzini, Sangiovese 2009, King Valley
13%. Medium deep colour, brick rim. Bright cherry, cinnamon, bright sweet fruit, has chalky dry tannins, and with sweet fruit. Medium bodied, firm backbone, good ripe fruit, nicely balanced. Rich balance of good fruit weight. Good.
Pizzini, Nebbiolo 2005, King Valley
14.3%. medium deep, brick rim. Warm, spicy fruitcake, baked cherry pie, rich, sweet and fine-grainy attack. Quite full bodied, mouth-filling, dry, chalky fruit savour. Nicely structured with depth and fruit concentration. Vg.
Pizzini, Nebbiolo 2006, King Valley
Medium pale, brick rim, black tea leaves on nose. Dry baked cherry crumble. Sweet fruit core dissected by web of fine, structured tannins.  Savoury black olive notes. Vg.
Pizzini, Rubacuori Sangiovese 2004, King Valley
Meaning stealer of hearts. Deep colour, spicy, brambly and savoury in a gamey vein, followed by dense, sweet fruit, darkly spiced, and richly textured.
Pizzini, Il Barone 2006, King Valley
Cabernet sauvignon, shiraz, sangiovese, nebbiolo, a blend that was put together nearly a decade ago.  Dense colour, flavours of spice and dark fruits; dense, youthful, and with a big balance.
Pizzini, Coronamento Nebbiolo 2004, King Valley
Meaning crowing achievement. 14.5%. Medium deep with brick rim. Perfumed, smoothly structured, with sweet baked cherry notes, fine-knit tannins, warming feel and long, integrated, finely balanced palate. Vg.
My research visit to Australia in October 2010 was sponsored by Wine Australia.
---
Please feel free to comment on this article