Published by Sally on May 28, 2013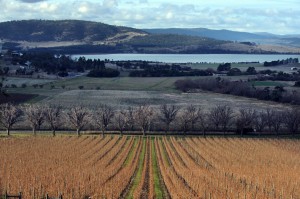 With increasing demand for cool climate wines and wines that are fresh and refreshing, Tasmania is truly on song. And given that Australia's island state is surrounded by cool, southern oceans, the climate is forecast to be less rapidly affected by warming than other parts of Australia, which suggests its cool climate status isn't under immediate threat.
In 2010 Antarctic Climate and Ecosystems Cooperative Research Centre forecast a temperature increase for the state between 1.6°C to 2.9°C over the 21st century, depending on the level of emissions scenario. And unusually for Australia, water availability is not really an issue in Tasmania. It accumulates nearly 12% of Australia's total water, which is not bad for 2% of the country's land surface.
Dr Andrew Pirie flew into London to promote Tasmania's position as Aussie's 'true' cool climate region. Pirie has done a lot of work on climate modelling showing growing season temperature (GST), which, he said "is proving easier to calculate than degree days and easier to map, especially with global warming. You can calculate the impact of global warming very quickly."
He explained "14 to 16° GST around the world is where pinot noir grows. And it's where we think chardonnay does best." Most of the coastal areas of Tasmania are 14-16° GST, as are Burgundy and Champagne in France. Almost inevitably, the best things coming out of Tas just now are its sparklings and its pinot noirs (tasting selection below).
All this is part of an increasing amount of wine research in Tasmania. The AWRI has set up an outpost on the island. Future vineyard sites have been mapped which, Pirie said, show "100,000 hectares is suitable" for viticulture, land which is currently used for sheep farming, forestry and other low level agriculture.  At the moment around 1,600ha are planted.  Pirie said his climate model allows you "to look at a site, calculate its GST and know what you think you should grow now and in 40 years time." No mean feat for a generational business such as viticulture.
Pirie drew the line in the sand for Tasmania's cool climate status. He said "Tasmania's mission is to be the premier cool climate terroir in the southern hemisphere", before acknowledging "New Zealand is giving us a pretty good run for our money."
Some show-awarded wines, tasted in London, May 2013
Jansz, Late Disgorged 2003, Pipers Brook
Aromatic smoke and galvanised steel on the nose, with honeyed toast and crushed blossom. Palate is finely moussed,with dried strawberry notes and briar notes mid palate. Zesty, medium bodied with rich, light toasty intensity and volume. Wholesome, and complex.
Jansz, Vintage 2007, Pipers Brook
Fresh, floral, lifted citrus nose, and palate attack. Fine, crunchy mousse, hint of allspice-piquant fresh cream texture on the palate. Richly flavoured, lemon and honeyed toast, with long in-palate length. Good
Jansz, Vintage Rose 2009
Delicate coral pink, with fine crown. Bit of a muted nose, then sweet strawberry confection palate attack with sprinkling of black pepper spice. Fine texture mousse. Light medium body, straight down the line. Tasty.
Apogee, Deluxe Vintage 2010, Lebrina
Creamy apple and cherry blossom with lemon meringue pie creaminess. Fresh, zesty, perky attack redolent with all things lemon citrus, light and intense, layering of lemon desserts, syllabub, drizzle cake, crumble, lovely, fine texture and fine mousse.
Surprisingly citrus-orientated for an ~50:50 pinot noir : chardonnay blend. Pirie said "the coolness of site may be subduing the pinot noir character, and with bottle age pinot noir character will grow."
Apogee, Deluxe Vintage 2011, Lebrina
Fresh and pithily zesty attack. Tight, linear, lemon spectrum focus again, with faint whiff of strawberry in the background. Tight and young, and with intensity belying its light weight.  Bit more chardonnay in this one: 44%, to pinot noir's 31%, plus 25% pinot meunier.
Freycinet, Radenti Late Disgorged 2001, East Coast
More than 8 years on lees. Preserved lemon nose, rich, autolytic creamy, lemon syllabub texture of lees. Medium to full body weight and sweet, almost nutmeg note to aromatic spice of age. Smooth, silky, fine mousse. Intense and rich volume of fruit. vg.
Arras, Late Disgorged EJ Carr 2001, Tasmania
Creamy, yeasty, sweet pastry and brioche nose; very complex. Tight and firmly acidic, still. Medium body, fine, richly textured mousse. Fresh as a daisy, still quite tight, yet to blossom fully. Complex and layered.
Arras, Blanc de Blanc 2001
On tirage for nine years. Citrus spectrum, fresh as a daisy, in a medium bodied wine with fine mousse, in a more ethereal spectrum of weight. Full flavoured nonetheless, with hints of allspice and white pepper amid pithy citrus layers.
Bay of Fires, Pinot Noir 2011, Tasmania
13.5% pale intensity of dark-cherry colour. Bright red cherry nose, sweet attack of primary cherry fruit, smooth texture. Not hugely complex, but nicely pure and straight for that.
Home Hill, Kelly's Reserve Pinot Noir 2011, Ranelagh, Huon
13.5% Smooth and silky texture of freshly harvested dark cherries, with a smoky hint. Fine, fine tannin texture and integrity, in a medium-full body, with sweet, spiced cherry fruit. Savoury hints of graphite here too. Vg.
Tamar Ridge, Kayena Reserve Pinot Noir 2009, Tamar
Smoke and black pepper spiced cherry nose. More overt oak tannins here with a sandalwood grain added onto the wine; not obtrusive but present, if a tiny bit distracting. Rich, nearly full-bodied wine with fine-textured fruit profile emerging. Good.
Freycinet, Pinot Noir 2010, East Coast
14.5% Medium pale cherry colour. Smoke and a hint of fresh charcoal on the nose. Sweet, bass notes of mulled cherries on the palate attack. Rich, and bake-concentrated, edging toward medium bodied from full body, while retaining all the aromas, typicity and beauty of pinot noir. Fleshy, with plush texture; wholesome and long. Vg.
Pooley, Pinot Noir 2011, Coal River
13.5% Not hugely aromatic on pouring. Clean, bright cherry notes on nose and palate. Pure and straight, with layering of smooth fruit and fine tannin. Nicely proportioned in fresh, linear, pure style. Good.
Home Hill, Kelly's Reserve Pinot Noir 2010, Ranelagh, Huon
13.8%. Medium cherry colour. Not hugely aromatic at this time. Smooth, fresh texture is first impression, then silky and plush, with sweet fruit, purity and freshness. Lovely balance and integrity in medium-light body with intense flavours, almost seamless. Vg.
Coal Valley Vineyard, Pinot Noir 2011, Coal River
13.5%. Nose a bit cherry-Tune Beaujolais-esque. Lighter bodied. Pure. Has some juicy succulence, simplicity and directness. Nice density and volume. Also good.
---
Please feel free to comment on this article