Published by Sally on August 24, 2012
2 Comments
It's been estimated that some 40% of the total Tassie harvest tonnage goes into making sparkling wine.  That's some three-quarters of the chardonnay grown and one third of the pinot noir grown on the island state. Not bad at all, and comparable to the UK where about half of (smaller) production goes to sparkling. It's all about the cool climate.
Pipers River, some 10km plus inland from the north coast, and up to 270m above sea level, is the frost-risky area where most of the key sparkling wine producers are located. The likes of Bay of Fires, Jansz and Kreglinger (including Pipers and Ninth Island) are all here, along with Clover Hill, Delamere, and Andrew Pirie's new sparkling venture, Apogee, which is the culmination of his 40 years' Tasmanian experience.
But location of the winery is not everything in Tasmania. The bigger producers, such as Bay of Fires/Arras, which is owned by Accolade Wines, and Jansz, which is owned by Yalumba, buy fruit from all over Tasmania, so the Piper's River location is largely historical, and the facilities are either effectively press houses or wineries making the base wine. Generally either juice or base wine is shipped over to the mainland where tirage and maturation occur. The smaller estates, and Kreglinger, are the exceptions to this, where production is made entirely on the island state.
Karl Schultz, the assistant winemaker at Bay of Fires explained: "we take fruit from all over Tasmania. We have a three to four week harvest across the state" as fruit from north and south ripens at different times.   Schulz added "It is whole-bunch pressed then the juice goes to the mainland, leaving here at 8°C, going overnight in a stainless steel tanker" to minimise temperature pick up en route to Reynella, in South Australia.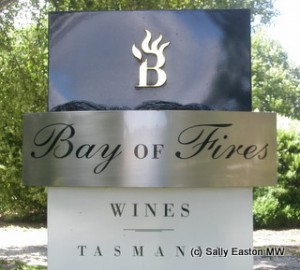 Traditional method sparkling wine allows a huge variety of styles to emerge from a single place, and Tasmania is no different, even when most production is from classic Champagne grapes of pinot noir and chardonnay.  Accolade's two Tassie sparkling brands have very different styles and target markets for example. Just on lees ageing, Bay of Fires gets about four years on lees while Arras Brut Elite gets six years, Grand Vintage seven years, and EJ Carr ten years.  There's certainly more complexity and toasted brioche, sweet pastry, nutty and nougat autolytic notes as you go up the scale. More linearity, tautness and precision too, all with a core of lemon fruit of varying description. The 2000 and 1998 EJ Carrs also had huge plushness and flesh around the spine of acidity, while the 1999 was more restrained, less ebullient than the other vintages, and no less enjoyable for that.
One of the great, and sought after, things about Tassie fruit is its acidity, as René Bezemer, chief winemaker at Kreglinger Wine Estates explained "acid retention in Tasmania is unique from the mainland. In Tas you don't lose malic acid as quickly" which, he added "gives us suitably low pH for sparkling."
Variation in acid and pH in the juice fractions accounts for some of the stylistic variation of the Kreglinger portfolio. Bezemer said "five hundred litres [of juice] per tonne goes to the cuvee, but it's a question of quality versus quantity. We aim for 430 litres, and the rest is tasted every 20 litres/tonne. As you press during those 20 litres/tonne, you get more phenolics, a loss of total acid, and an increase in pH.  And if the pH rises above 3.1, then we're pressing too firmly, getting too much phenolics." It is on the basis of this continuous tasting that the decision between the Kreglinger and Pipers brands is made.
Bezemer outlined the end result, saying "Kreglinger has more developed autolysis and complex secondary palate texture; more austerity, more textural weight, more fleshy attributes and more palate density [while] Pipers leads to more confectionery appeal." Part of the difference also stems from the maturation regime – Pipers generally has two to two and a half years on lees, while Kreglinger has five.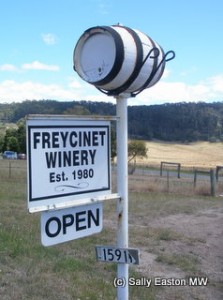 If lees regime is anything to go by, Claudio Radenti of Freycinet on the east coast probably takes the biscuit, making small volumes of long-tiraged bubblies under the Radenti label. The current vintage is 2001.  He said "ten years on lees is beneficial for texture and complexity in the wine, and persistence of aftertaste – lovely bakery brioche characters."  The 2001 is 60% chardonnay, 40% pinot noir with full malolactic and tastes complex and incredibly youthful, with fresh lemon toast, a lush and creamy mouthfeel amid the fine mousse. Hugely moreish.
Delamere Vineyards is another small volume producer, owned by Fran Austin, the ex-winemaker at Bay of Fires. In Tasmania's marginal climate, she highlighted the importance of a mixed sparkling and still wine portfolio for Tasmania producers, saying "Tasmania has either a good or great year for sparkling, though you do have to be careful with site selection for still wine. There are probably two years in ten where we push more fruit towards sparkling" because the fruit hasn't quite reached the ripeness level they're seeking for their still wines.  But it gives growers a leeway and choice, albeit one dictated by climate rather than consumer demand.
Some of these seasonal variations can be at least partially offset by vineyard work, and at Jansz, another major player based in Pipers River, this is important because they make only sparkling wine, so there is no opportunity to push fruit to a still wine programme. Winemaker Natalie Fryar "likes dappled light for sparkling fruit.  With too much exposure you get increased phenolics [from thickened skins], and a loss of acid."  The logistical issues are complicated by too much exposure too, she said, as "the sparkling flavour window is reduced because the grapes move to table wine flavours very quickly."
The other usual stylistic variations come to play with sparkling wine – malolactic fermentation or not, proportions of grape varieties etc. and while these may be philosophically consistent, they may also change if vintage variation demands it.  The philosophy at Jansz for example, Fryer said "is more chardonnay dominant, that's how our vineyard was planted.  I inherited an elegant and restrained style, and I'm trying to continue that." (I'll post detail on Jansz in the near future.)
My research visit to Australia in February 2012 was sponsored by Wine Australia and Wine Tasmania.
---
Comments
2 Responses to "Tasmanian sparkling wine"
Audra Prout Says:
May 2, 2019 at 8:04 pm

Hi Sally, Thanks for the great article. My name is Audra Prout and I am working on a research project w my tasting group on Tasmania's Sparkling wine. We are all at the Certified Sommelier/Advanced Sommelier level. Our research is based on Shayn Bjornholm's 12 steps. I am looking for additional information on maps and soil. Might you have any resources I could review for this project. Many thanks. Audra Prout

Sally Says:
May 3, 2019 at 8:17 am

I'm sure you've already been in touch with them, but I'd talk to http://winetasmania.com.au and https://dpipwe.tas.gov.au/. Good luck with your research project!