Published by Sally on October 1, 2014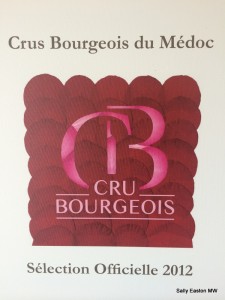 The release of the 2012 vintage Cru Bourgeois list, in September 2014, marks the fifth anniversary of this award. It emerged in 2010 (with the 2008 vintage) from the debacle of a legally-biased attempt at classification in 2003. The alliance of crus bourgeois has since quietly gone about its business of rebuilding trust and confidence in the crus bourgeois brand, or 'family', as they've taken to calling themselves.
Crus bourgeois wines arguably offer consumers one of the most egalitarian gateways to getting to grips with non-speculation left bank Bordeaux stocks. Almost by definition, crus bourgeois wines are wines with which you cannot speculate. Thus their prices are typically relatively stable over the medium term. In the crus bourgeois arena, affordable red Bordeaux is not an oxymoron.
Author and Bordeaux expert Stephen Brook selected four properties' wines to lead a seminar reviewing the first five years.
He kicked off by summarising the vintages:
2008: Off to a bad start. Mildew, difficulties at flowering. July was okay; August cold and wet with more mildew. An Indian summer improved to dry warm weather; nights cool; skins thick. 'classic' vintage. Suspect the 2008 vintage is underrated.
2009: Glorious. Bit low in acidity. Similar climate to 1982, but wines much better made in 2009
2010: Fascinating to contrast with 2009. Hot 'til mid-July. August cloudy but no rain. Grapes with high sugars and with relatively high acidity and tannin. On the right bank, there are wines with alcohol close to 16%.
2011: Hot; precocious flowering. Then damp and mildew. Warm, tropical September, more disease. Fine in later Sept. Uneven ripening. Some raisining. Needed to be vigilant in the vineyard.
2012: Uneven flowering; mildew during summer. Warm mid-July. Hottest August since 2003, with a few days of sunburn. Fine weather 'til September 23, then 40-90 mm rainfall in a few days – rampant rot. Vineyard selection essential A late year, as was 2008.
Brook noted that there are fewer and fewer crus bourgeois in some communes, notably the 'posher' ones of Margaux, St. Julien and Pauillac, not because properties do not enter the award system, but because such remaining properties are being snapped up by more illustrious names, and their vineyards absorbed into those of the more illustrious name.
My conclusions:
Assuming winemaking philosophy and reality have been reasonably consistent over the five-year period, crus bourgeois wines show some distinct vintage variation differences.
I struggled a bit with continued angularity of tannins of 2008. On this snapshot tasting I'm not sure the tannins of the wines tasted will fully meld.
Of the 2009s and 2010s I typically preferred the freshness of '10s over the less-backboned fleshiness of the '09s.
Crus bourgeois is a broad church. There is wide price variation across crus bourgeois properties, but I speculate that price as a proxy for quality is probably more reliable than in other Bordeaux classifications.  In fact, this point is being addressed as the Alliance of Crus Bourgeois has announced that it will introduce a ranking of some sort. Hurrah. I think this will add a degree of clarity and progression to 'brand' crus bourgeois. No time scale has yet been set for this.
Tasting, London, September 25, 2014 (the tasting notes are mine)
Château Rollan de By, Médoc
A property with 52 hectares of vineyards in the northern Médoc.  Assemblage approximately 70% merlot, 10% cabernet sauvignon, 10% cabernet franc; 10% petit verdot.
Château Rollan de By 2008
Earthy, hint green pepper on nose, bit of early fruitcake, just beginning to show a hint of attractive maturity. Tannins still a bit angular, but nicely balanced and more than approachable. Length not huge. 13%
Château Rollan de By 2009
Smoky, dark berried fruits on nose, plush and ripe, medium plus bodied, smooth textured, almost sweet tannins. Sweet black fruits. Gentle, still feeling vanilla toasted new oak. Nicely balanced. But doesn't have huge concentration or complexity. 14%
Château Rollan de By 2010
Black pepper, spice, supple, ripe, quite plush tannins, already melding and integrating. Dark. High alcohol perception; almost feels fuller bodied (than '09), has freshness and cleansing finish. 14%
Château Rollan de By 2011
Earthy, blackcurrant and mulberry nose, fresh attack, smooth, much lighter on the tannins (than previous three). Lightly medium bodied, creating a nice bit of forward elegance, really. More red fruit spectrum on the palate. Spicy back palate comes in late. 13.5%
Château Rollan de By 2012
Smoke and sandalwood on the nose, youthfully, gently gripping, dry/angular tannins, not so many to detract from gentle, light red summer berry fruits. Forward, early drinking style, with tannins kept in control. 13%
Château Belle-Vue, Haut-Médoc
A property with 16 ha of vineyards in southern Médoc.
Château Belle-Vue 2008
Warmed through red berry forest fruits on the nose. Gentle, farmyard-beginnings on the palate. Light-medium body, gentle and evolving. Tannins on back palate a little dry (not drying), not sure they'll meld though. Wouldn't want to hold on to it for too much longer.  50CS;30M;20PV, 13%.
Château Belle-Vue 2009
Dark, spicy, hint almost feral on the nose; plush palate attack, supple, plentiful tannins. Rich, appealing and forward, and has structure to go some distance.  Nice, soft, enticing appeal. Good length. 53CS; 27M;20PV, 14%
Château Belle-Vue 2010
More red fruits on nose, supple, sweet palate attack, crunchy with sandalwood perfume and light vanilla toastiness. Plush medium bodied palate, enticing and sweet. Youthfully angular tannins just beginning to meld. Sweet fruits to fore, mid and aft. Good length. Fresh core. Vg. 53CS; 27M; 20PV, 13.5%.
Château Belle-Vue 2011
Spice, black pepper, clove on the nose. Quite big on the attack. Tarry, and black tar. Fresh with smooth, lighter tannins. Still quite big on the palate. Upfront and sassy, with a decent bit of length. 46CS; 31M 23PV, 13%.
Château Belle-Vue 2012
Herbal, blackcurrant leaf hit on first nose, an aspect I quite like. Black cherry also there. Comes through more on palate. Nice fresh core to balance; young with several years ahead of it. 50CS; 30M; 20PV, 13%
Château Deyrem-Valentin, Margaux
A property with 13 ha of vineyards, in ten parcels, in the heart of Margaux.
Château Deyrem-Valentin 2008
Spicy, a bit dark nutty with supple fruitcake coming to dominance in this wine. Not really showing how I might anticipate … prematurely ageing? 50M; 48CS; 1PV; 1carm; 13%
Château Deyrem-Valentin 2009
Sweet blackcurrant ice-cream on the nose, enticing and succulent. Replicated on the palate. Plush, sweet core, still with firm acidity, with plush, fleshy, sweetly ripe black forest gateaux fruits. Medium-plus body, fine grain, still youthful tannins with the odd edge yet to round out. Alcohol entirely integrated. Some complexity here and long finish. 50M; 48CS; 2PV 14.5%
Château Deyrem-Valentin 2010
Bright, crunchy, plummy fruit on the nose. Plush, plummy, round, rich, succulent. Sandalwood, sandy-grain vanilla toasted oak tannins, yet to meld. Fresh core, beginnings of silky texture and seductive in-palate length. Nice, complex. Don't taste the alcohol at all. Long finish. Vg 50M; 48CS; 2PV 14.5%
Château Deyrem-Valentin 2011
Not so aromatic, initially. Fresh, lighter tannin profile, done smoothly and well. Forward, reasonably juicy and straight.  No huge complexity or long-keeping potential. Nice for next 3-5 years. 55CS; 44M 1PV 13%.
Château Deyrem-Valentin 2012
purple and  bright. Supple, lighter tannin volume, focus on juicy purity of blackcurrant and blueberr fruits. Nicely done in that respect. Maybe up to 4-5 years. To keep. Hint of blackcurrant leaf on the back palate. Better than 2011, by a considerable margin. Nice fresh, young balance. Do't realy want to lose such balane. 52M 47CS; 1PV 13.5%
Château Branas Grand Poujeaux, Moulis
A property of 12ha on Garonne gravel.
Château Branas Grand Poujeaux 2008
Spice the nose. Palate quite supple but with tannins that are still a bit edgy and I'm still not sure they're going to integrate. Drink soonish, I'd have thought. 50M; 45CS; 5PV 13.5%.
Château Branas Grand Poujeaux 2009
Black, smoky, tarry nose, and palate attack. Supple, rich, fat with sweet fruit and tannin. Sweet tannin. Full, plush. Plump. And an alcohol kick on this one. Bit of a baby bruiser (not a bruiser of babies though). 50M; 45CS; 5PV 14.5%.
Château Branas Grand Poujeaux 2010
Aromatic tar and blackcurrant fruit nose. Fresh, silky fruit-textured attack. Smooth silty-fine-grain tannin with plush-ripe, but not over-sweet fruits. Very nicely done. Smart wine and affordable. Young and still a bit gangly, yet to deport itself properly, but it will. Good. 50M; 45CS; 5PV 14%
Château Branas Grand Poujeaux 2011
Black fruit nose, focus on fruit again, tannins are light and don't really interfere in any way. Fruit is nicely ripe and pretty dense, this appears to have more tannic structure than some of the other '11s here. Nicely balanced with good density and long finish. 50M; 45CS; 5PV 13.5%.
Château Branas Grand Poujeaux 2012
Initial green pepper hit on the nose, but not on the palate. Plush, fresh, silky texture despite youth, and very fine grain of oak. Generous and fresh, linear, even. Some suaveness to the texture, with good fruit intensity and concentration. Good in-palate length; plush, fleshy, flattering wine that also delivers. Vg. 50M; 45CS; 5PV 14%.
---
Please feel free to comment on this article