Published by Sally on June 15, 2011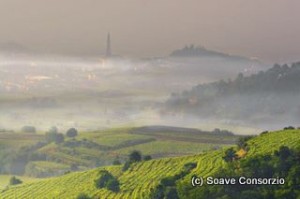 I was commissioned by the Italian Trade Commission, a section of the Italian embassy that promotes trade, to deliver a tasting seminar at a May 2011 wine trade show – the London International Wine Fair.  This is what I talked about, along with my tasting notes below.
Soave is one of those appellations that continues to suffer after the swathes of industrial production that started in the 1970s.
The mainstay of the appellation is garganega and the purpose of the tasting was to look at this grape variety to judge whether it deserves the bad press, or if it's an interesting or even more than interesting grape variety.
Garganega is vigorous, it's productive, yields need controlling to produce high quality. The grapes are thick-skinned, they have naturally high acidity levels. Reductive winemaking focuses on the primary fruit characters of this not particularly aromatic grape variety, though at the top end the variety can perform extremely well with some oak influence.
Thus far, this could equally describe sauvignon blanc, which much of the world loves, and especially the UK.  Even some of the generalised fruit characters, though not all, concord with sauvignon blanc – citrus fruits, candied fruits, apple, pear, apricot, nectarine, mango, pineapple. 
But it is a notably different grape variety – independence is struck with green hints to the colour, and manifold floral perfumes – white flowers, orange blossom, acacia, elderflower, cherry blossom and honeysuckle have been variously cited. Steeliness, with a delicate spiciness and sometimes tangy, fine herbal twist of sage, fennel or chicory can also be found, as well as a very typical fresh almond note, especially on the finish.  It's already beginning to read like quite an interesting, flavoursome option (but then I've long been a fan of good quality Soave).
Ripeness has previously been an issue for garganega. When picked early, the thick skins have not had a chance to soften, which can impart bitter, green flavours to the wine. When the skins are ripe they turn a translucent sun-blushed colour, and it is this ripeness that's required to release the flavours that are bound up in the skins. Achieving ripeness is one of the key quality parameters for the grape, and work has been done on this in recent years.
Other quality parameters have been identified by research programmes instigated by the Soave Consorzio. One of these was to focus on garganega as the mainstay for the appellation.  Now it must comprise at least 70% of the blend, with trebbiano di Soave up to a maximum of 30%.  The less good trebbiano di Toscana (aka ugni blanc) is no longer permitted in the blend.
Another key quality factor was the identification of crus, after a viticultural zoning study was carried out between 1998 and 2002. Following on from this detailed classification of the 6,900 hectares of vineyards and their mostly volcanic soils, some 50 crus, or single vineyard sites were named. Work on defining these crus continues, most, though not all, of which are in the Classico zone.
In Italy, Classico denotes the original heartland of an appellation, and thus the terroir-istic apex of the quality pyramid, as in Chianti Classico for example. 
But when considering a DOCG, which is usually regarded as another quality progression, for whatever reason, the DOCG was not granted to the Classico region alone.  A DOCG Soave Superiore was created, in 2002, which – potentially – included all the Classico zone, but also – potentially – included some hillsides outside the Classico zone. 
Being on those hillsides, or in the Classico zone, is not enough to automatically qualify for the DOCG – the wines must come from lower yields (though from already generous limits), and have half a degree more alcohol (from already modest levels). That is, from conditions which are not really too arduous to achieve. So Classico wines may be 'Soave Classico DOC' or Soave Superiore Classico DOCG', and from the hillside outside the Classico zone wines may be 'Soave Superiore DOCG', or 'Soave Colli Scaligeri DOC'. 
Unsurprisingly the system has its critics, notably from producers already making seriously good wine, to already more stringent standards.  The geography and regulations alone are confusing for anyone not intimately associated with the region to properly understand.
Criticisms apart, the region seems to be going in the right direction. It is addressing basic production and building a hierarchy that aspirational producers can use to differentiate themselves from the basic stuff. And good quality Soave is a tasty wine.
Tasting notes, London, May 2011
The wines were all as close to being made entirely from garganega as possible. 
Flight one (wines 1 -3) showed differences in the straightforward Soave DOC, from light and simple to more rich and tropical. 
Flight two (wines 4 – 6), looked at Soave Classico DOC, showing a clear quality improvement.
Flight three (wines 7 -9) looked at the influence of smaller and larger oak, and none was stated as being new, and for me the best worked well where overt oak could not be tasted.
1.  Cantine Riondo, Castelforte Excelsa Soave DOC 2010
100% garganega; 12%, 4g/l RS; all stainless steel; 3 months on lees
Light, floral, apples and pears. Designed to be straightforward and clean, this also has pear drops and a bit of upfront fruit.
2.  Bertani, Sereole Soave DOC 2010
100% garganega; 13%, 3g/l RS; fermentation in 75hl oak casks (no overt influence)
Hints of aromatic smoke, rounded, citrus and peachy with decent supple Mediterranean fruits on the palate.
3.  Agr. Fattori Di Fattori Giovanni, Motto Piane Soave DOC 2010
100% garganega; 14.5%, 6.5g/l RS; fermentation part in stainless steel, part in 25hl casks.
Rich and fruit-laden with creamy peach melba notes, aromatic fruit spices in a medium bodied wine with attractive concentration and some power and intensity for the style. Alcohol is unnoticed and the hint of fruitiness accentuates the body and tropical notes.
4.  Cantina di Soave, Rocca Sveva Soave Classico DOC 2010
100% garganega; 12.5%, 4.5g/l RS.
Clean, fresh and straightforward wine with attractive pear and nectarine fruits in elegant and fairly light-bodied style.
5.  Cantina del Castello, Castello Soave Classico DOC 2010
90% garganega, 10% trebbiano di Soave; 12.5%, 3.9g/l RS.  All stainless steel
Creamy texture, with almond cream, white pepper and allspice in wine of good density and delicate yet persistent fragrance. Linear profile. Good.
6.  Suavia, Soave Classico DOC 2010
95% garganega; 5% trebbiano di Soave; 12.5%, 3.5g/l RS.
Spicy, rich and dense tropical fruits with a herbal twist in the core. Wafting gunsmoke complexity with very good definition and stacks of flavour – tropical fruit and a gunflint/stony edge. Good.
7.  Az. Agr. Dal Cero, Vigneto Runcata Soave Superiore DOCG 2009
100% garganega; 13.5%, fermentation and 12 month maturation in 20hl wooden casks, on fine lees.
Solid density of fruit, in more savoury than fruity spectrum, with some gentle hints of sandalwood. Slight lanolin, beeswax notes on the palate detracts from this wine for me.
8.  Cantina di Monteforte, Vigneto di Montegrande, Soave Superiore Classico DOCG 2008
100% garganega; 13%, 4g/l RS. Fermentation in barriques and 15hl casks; 12 months maturation in big casks.
Rich, medium weight with tropical fruits of mango and pineapple. Hints of savoury complexity threaded through a really strong fruited, concentrated core. Long and good.
9.  Az. Agr. Montetondo, Casette Foscarin Soave Classico DOC 2008
90% garganega, 10% trebbiano; 13%, 8g/l RS, fermentation in steel, six months maturation in barrique.
Some sweetness of fruit from a portion late harvested. Rich, dense, aromatically spicy and almost full-bodied, with tropical fruits to the fore. Texture, nuance and complexity, rather than overt flavour, provided by the oak. Lush fruit, layered, richly balanced and long.  Very good.
---
Please feel free to comment on this article