Published by Sally on September 11, 2010

The Istituto Grandi Marchi, formed six years ago to jointly promote their wines, presented some of those wines at an Institute of Masters of Wine seminar and tasting this week, during the group's first visit to the UK.
That such a group exists at all is quite special in Italy, as the President of the Istituto Grandi Marchi, Marchese Piero Antinori, explained "Italians are very individualistic, they like to do things on their own; they don't like to cooperate with others. I would say it's in our DNA, so it is difficult to overcome." Though, he added "although we are competitors, we respect each other, and in many cases we are also very good friends. We realised it is more effective to do things jointly, rather than individually.  And after six years, this approach has proved to be successful."
The group includes some of the best known names in the country.  There are 17 members covering almost the whole territory of Italy, which was one of the original ideas.  Donnafugata's owner Josè Rallo said "I think we are representative of quality in Italy for medium-high and high quality." In addition to which Antinori estimated that the group represents 16-17% of the total 'high quality' wine production, which he described as both DOC/G wines and IGT wines such as the 'supertuscan' category.
The group has decided its membership is not open to newcomers though Antinori said they had a waiting list of producers who would like to join. He said "we want to remain as we are. The group is friends, we trust each other. And the new generation is already involved, they are starting to become friends", adding "the size, location, culture and history can be different, but there are many elements that are similar – our passion for wine; we are all family-owned and run businesses.  And there is a danger [of losing this if] we become too big."
Their global programme to date comprises almost 50 events – tastings for the trade, for collectors and consumers; education for sommeliers; visits to Italy – and has so far focused on the eastern markets of China, Korea, Taiwan, Japan, India and Russia.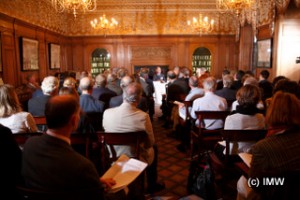 The first question of the session addressed non-indigenous grape varieties … Antinori was, after all, one of the leaders in the '70s and '80s of non-Italian, non-Tuscan varieties, with Solaia and Tignanello.
"It worked well at that time" Antinori explained. Before that "especially in central Italy, we were almost condemned, we were obliged to use non-Italian varieties. In the 60s most of the old viticulture was transformed to more modern viticulture. The problem no-one realised was that the nurseries were not able to provide good genetic quality of sangiovese. This was a disaster for quality.
"The quality of sangiovese that was planted in a relatively short period of time proved to be very poor. Wines, especially in Tuscany went down in quality, in price, in everything.
"To stop this negative trend we had to do something.  I introduced grapes that were already well selected, one was cabernet sauvignon, but also others, and these proved to give very good results.
"We were encouraged to plant grapes we knew would do well, that's why the supertuscan category was created and some wines became very famous."
Since that time, there have been many years of research and selection into indigenous grape varieties, the Chianti Classico 2000 project being a case in point.  Antinori believes the future for non-indigenous varieties has peaked. He said "the need for non-indigenous grape varieties is not as strong. Everyone is focusing more on our indigenous grape varieties.  There are some exceptions and regions where so-called international grape varieties have given very good results, for example Bolgheri [based on cabernet sauvignon and merlot], which has gained a great reputation in the last 30-40 years. But this is the exception now."
Rallo had a slightly different view for Sicily, which, she said "is a little bit behind Tuscany. Our most famous red variety nero d'avola has not yet come into good clonal genetic definition. And there are still cultivations of international varieties which have perfectly found their habitat."  She suggested more time was needed in other regions of Italy that were not so viticulturally advanced as Tuscany.  She added of international varieties "If you can make a different wine, then you can say that the grape variety has found a terroir, it has found a personality" much like cabernet sauvignon and merlot in Bolgheri.  
International varieties have not pre-occupied Mastroberardino, as Stephan Moccia explained "we never had experience with international varieties in Campania, though other producers have good results blending aglianico with cabernet sauvignon, or with merlot.  But we have always believed in our ancient grapes – fiano, aglianico – and now the critics are looking for native grapes, we think we are on the right way."
As well as a re-discovery on the international stage of indigenous varieties, Italian wines are being helped by a slow but steady restructuring of viticulture towards better quality.  Antinori said "Italy comes from centuries of viticulture related to quantity rather than quality, for many reasons which would be too long to analyse. But 40 years ago we started to go in the opposite direction."
It was the beginning of a renaissance for Italian wines.  Antinori said "most producers are now looking for quality rather than quantity. However a big part of viticulture still reflects the old philosophy.. At least 30% of the total acreage of vineyards is still orientated to quantity." And, he added "the market doesn't accept any more these type of wines."
He cited the thousands of acres planted to uninteresting trebbiano, saying "the challenge is to complete the change that started 40-50 years ago. We have to transform these thousands of acres which are inefficient and not orientated to the market. It is an ambitious objective – often these acres belong to small producers who sometimes do viticulture as a hobby, so they have no means to invest or renovate. It's more difficult than we think."
No dispute there.
Tasting notes to follow.
---
Please feel free to comment on this article