Published by Sally on August 8, 2014
1 Comment
I tasted some mighty fine Sancerres on a recent trip to the region. The wines below were part of a tiny glimpse at the world of Sancerre's lieux dits, from three of the more widely known single vineyard site names: Chêne Marchand at Bué, le Cul de Beaujeu (which I scrambled down during the Trail de Sancerre race in June) and la Côte des Monts Damnés (which I relatively soon after walked up during the same race), both at Chavignol.
Sancerre may be made solely (almost) from a single cultivar, but the region's geography offers several permutations that have the opportunity to influence wine style:
Altitude broadly varies from 100 to 350m asl.
There are three broad bands of soil type from clay-limestone (terres blanches), aka Kimmeridgian marl, in the west, via stony limestone (caillottes) in the middle, to clay-flint (silex) in the east.
The hilly landscape offers a variety of aspects and gradients which harness relatively more or less warmth in this somewhat high latitude region.
Cul de Beaujeu is a steeply sloped terres blanches vineyard, with a south-east aspect and altitude about 250 to 350m.
La Côte des Monts Damnés is an equally steeply sloped terres blanches vineyard, with a south and south-east aspect, also about 250 to 350m altitude.
Chêne Marchand is a marginally less steeply sloped caillottes vineyard, with a south and east facing aspect, about 250 to 300m altitude.
Classically, terres blanches tends to fullness and richness whereas caillottes tends to stony, pebbly notes. Silex is said to offer steely wines with echoes of gunflint.
My tasting notes, in situ, June 2014. Pretty much blown away by all of these.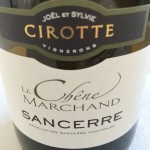 Domaine Joël et Sylvie Cirotte, Chêne Marchand 2012, Sancerre
Steel, citrus, pithy, lovely delicacy and purity here, some allspice, and altogether moreish character. Linear profile, commanding one's attention. Nectarine juiciness; concentrated and long.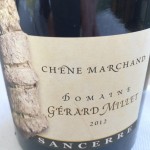 Domaine Gérard Millet, Chêne Marchand 2012 Sancerre
Citrus and vanilla ice cream nose. Palate is creamy, toasty, integrated and white nutty. This is very well balanced, rich, honeyed dry, with huge concentration and length. Quite stunning wine all surrounding a strong citrus core.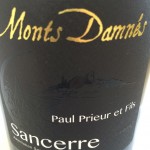 Paul Prieur et Fils, La Côte des Monts Damnés 2012, Sancerre
Steel, citrus pith, purity, flinty (I know it's not 'supposed' to be), baked lemons. A true wine of sighs. It's all about balance, palate texture, which tingles the tongue, silks across the palate in an ethereal way.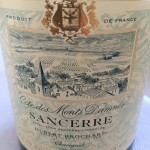 Hubert Brochard, La Côte des Monts Damnés, 2012, Sancerre
Honeyed and steely and a little bit funky. Smooth and sweet attack, weighty from creamy lees, this is rich, fat, plush and delicious. It moves away from 'classic' sauvignon blanc into an entirely hedonistic place.  Very long finish. This plot has a southerly exposition, and is apparently always very rich.
Domaine Serge Laloue, le Cul de Beaujeu, 2012, Sancerre
Steel and honey nose, moving to silky texture with citrus, stone and lemon-honey. Linear. Steely. Plush. Long. And rich in intensity. Punchy, too.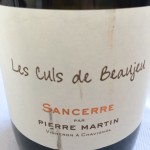 Domaine Pierre Martin, Les Culs de Beaujeu. Sancerre 2012
Preserved lemon nose, then steely, tight, with rapier-like acidity. This just tastes a bit young. Hints of roasted nuts amid fields of lemon orchards. Stones and steel with volume and intensity to adulate.
My visit to Sancerre was sponsored by the BIVC.
---
Comments
One Response to "Sancerre lieux-dits"
Gulzhan Says:
March 24, 2015 at 2:04 am

Hi CharlesThe 60 hl/ha referred to an unliissafced parcel of vines in the Pouilly area. The yields in Loir et Cher are much lower.Sorry not to have seen you.Best wishesJim