Published by Sally on July 2, 2014
1 Comment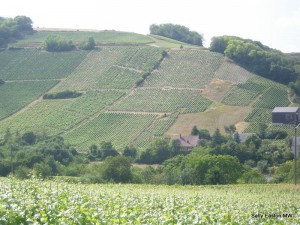 (aka the jog blog – thanks @thewinebird). Having taken up jogging again in the summer of 2012, I thought it might be fun to share some microclimatic observations.
Sancerre, June 2014
This was a bit more than a jog through the vineyards of Sancerre. And had I known quite how steep some of those vineyards are, I may have had second thoughts anyway.
The third edition of the Trail de Sancerre was held on the summer solstice. There are two races through the vineyards. Le magnum is a mighty 35km route, with 1,100m of ascent. I was running La filette, a "mere", I use the word advisedly, 14.8km with 500m of ascent.
It was a desiccating 28°C.
At times during the race it did indeed feel like the longest day.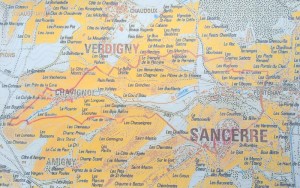 At times during the race I felt cold, which was a bit more worrying. Fortunately these moments were fewer than the fingers of one hand, and short-lived, as some other mini-running issue took preferential hold of my mind.
The vineyards are lovely. Sancerre is really pretty. Though when you're running on top of the slopes outside Chavignol, the hill of Sancerre is a really long way away, almost mythical in its distance.
But time passes, running is running, even if it is nearly walking pace. Allez, allez rang through the vines, as did the sound of bagpipes outside Verdigny… I may even have smiled internally once or twice.
A fuller account is on my running blog.
---
Comments
One Response to "Vineyard joggings"
Sunil Says:
March 1, 2015 at 9:10 pm

Hi CharlesThe 60 hl/ha referred to an unlsiscifaed parcel of vines in the Pouilly area. The yields in Loir et Cher are much lower.Sorry not to have seen you.Best wishesJim