Published by Sally on July 1, 2011

The Weinviertel, an expansive and diffuse region north of Vienna, is Austria's biggest wine-growing region, with over 13,300 hectares, which is nearly a third of all Austria's vineyard area. Vineyards are scattered throughout the region, on diverse soils, in diverse mesoclimates, and many of the 35 and more grape varieties grown in Austria are grown in this region.
It was one of the poorest wine-growing regions in Austria, and hugely fragmented with over 7,000 grape growers, selling a lot of wine cheaply in bulk and in bottle at low prices. It was also one of the least well known regions, perhaps because it didn't have a single identity on which to hang its hat. 
Ulrike Hager, managing director of the Weinviertel wine committee, said "ten years ago, there were no quality brands, the average price was below €3 in the market. Weinviertel was known for cheap wines and for lots of different styles and grape varieties. Our backs were against the wall, so we had nothing to lose. We wanted to improve Weinviertel to get a better image, and sell for better prices, of course."  
This poor position helps explain why Weinviertel was the first to adopt DAC (a Latin term indicating a geographically limited production zone, similar to appellations in France, Italy, Spain), in 2002, as a way of focusing attention, internally and internationally.  With nothing to lose, the region had much to gain.
The region chose to focus on Austria's icon and indigenous grape variety, grüner veltliner, with clear logic: nearly two-thirds of the Weinviertel vineyard is devoted to grüner veltliner so it made good sense for the region to hang its hat on this variety. Coincidentally, these 8,500 hectares of grüner veltliner in Weinviertel are two-thirds of all grüner veltliner  grown in Austria.
All the other varieties continue to be grown, with the origin of Niederösterreich (Lower Austria).  Only grüner veltliner can get the origin of Weinviertel DAC, and far from all of it succeeds in getting the appellation. Hager said "50% of the applications for DAC are rejected."
From vintage 2002, a 'classic' grüner veltliner DAC was introduced, which, according to the regulations must be "fruity, spicy, peppery [with] no notes of botrytis [hints of noble rot] or wood."
Just one revision has been made to the Classic DAC – a maximum level of alcohol has been introduced, so Classic DAC is 12% to 12.5% on the label.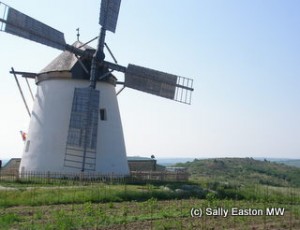 Hager said "it was good for us to introduce it. Weinviertel is now known everywhere in Austria. Many people come to Weinviertel. It was the best thing we could do in the last ten years. It is a success." Since 2004 the number of bottles awarded DAC has doubled to 3m.
Such is the progress of the Weinviertel's image and recognition, that from vintage 2009 a reserve category has been introduced. Regulations state this style is "dry, powerful, spicy, [with] delicate notes of botrytis or wood permitted."  
Producers wanting to apply for Reserve DAC, must have their entire winery certified according to the 'quality standard Weinviertel." Hager explained the additional scrutiny for Reserve DAC, saying "the whole winery, not just the wine, needs a certificate, which covers technical and softer terms including marketing", adding "the rules were made by the wine committee in a two year process, [in conjunction] with the University of Agriculture in Vienna." The certificate lasts three years.
After two vintages of this category, there are just 11 producers with DAC reserve wines. 
Weinviertel is clearly a region in which to find good value grüner veltliner, but there is still plenty of rather average stuff out there, even among the DAC wines, so it is all very much a work in progress, but that is something about which Hager is optimistic.
Top tasting notes of the 2010 vintage (and one from 2009), in situ, May 2011
Bergmann, Grüner Veltliner Classic 2010, Weinviertel DAC
12% 
Upfront white pepper spiciness, smooth and medium bodied with gentle, sweet fruit, and decent length. Straightforward and nice.  
Martinshof, Grüner Veltliner Hausberg 2010, Weinveirtel DAC
12%, 3.6g/l RS. ExCellar < €10
Peachy and pithy nose, firestone with some decent depth, ripe and fruit focused core.  Good.
Haindl-Erlacher, Grüner Veltliner 2010, Weinviertel DAC
12.4%, 2g/l RS. ExCellar < €10
Fresh, perky, citrus nose, lifted, grassy, fresh cut grass (quite sauvignon blanc like in this respect), then green and peppery.  Good length. Good.
Hirtl, Grüner Veltliner Bürsting 2010, Weinviertel DAC
12.5%, 4g/l RS. ExCellar < €10
Grass and a hint of light apricot, fresh with some attractive depth and concentration. Good.
Prechtl, Grüner Veltliner Reserve 2010, Weinviertel DAC
13%, 5g/l ExCellar €10 to €20
Zesty lime pith, with peach and spicy, firestone notes, good concentration and length.
Hofbauer-Schmidt, Grüner Veltliner Klassik 2010, Weinviertel DAC
12%, 2.9g/l RS. ExCellar < €10
Fresh and peppery, nicely balanced zestiness with herbal hints and upright primary fruits.
Zull, Grüner Veltliner 2010, Weinviertel DAC
12.5% 4g/l RS. ExCellar < €10
Spices and real depth of peaches and cream on the palate. The merest hint of sweetness lifts it all up and accents the extra dimension.  Good.
Ewald Gruber, Grüner Veltliner Reserve Mühlberg 2009, Weinviertel DAC
13.5%, 2.5g/l RS. ExCellar €10 to €20
Peachy, steely, soft fruits in a medium bodied wine with decent substance and concentration. Good.
My research trip to Austria was sponsored by the Austrian Wine Marketing Board.
---
Please feel free to comment on this article