Published by Sally on June 21, 2012

A tasting in Vienna marked the 25th anniversary of the smaragd style of wine from Austria's Wachau region. A panel comprising Franz Hirtzberger, Roman Horvath MW and Emmerich Knoll led the tasting, reviewing vintage and ageing potential from each of the last 25 years. All comments were translated into English by Roman Horvath, winery director of Domäne Wachau.
Vinea Wachau, the association of producers in the region, was quick off the mark in 1987 to describe the different styles of wine the region is capable of production, from the lightest Steinfeder, with its maximum alcohol 11.5%, through Federspiel, where alcohol is between 11.5 and 12.5% to smaragd, named after the bright green lizards that bask on the stone terraces, which must reach ripeness levels allowing a minimum of 12.5% alcohol in the finished wine.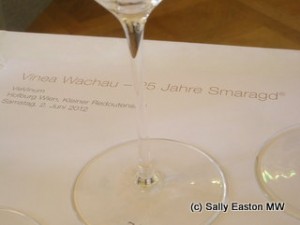 Over these 25 years, vinification practices have remained steadily conservative, but vineyard management practices have improved, with changes in soil and canopy management, as well as selective picking at harvest. Now, in ripe years it is easier to produce smaragd.
"At the end of the 1980s" Horvath summarised "it was very hard to reach smaragd level." But climate change issues have been brought into focus over the last quarter of a century.  He said "flowering has taken place earlier in the last 30 years. Flowering was mid June, now it starts at the end of May, beginning of June. This means that ripeness is reached earlier."  And, he added "in 2011, if you had wanted to, 100% could have been smaragd, because the year was very ripe."
Tasting notes, Vienna, June 2012
With vintage summaries translated into English by Horvath.
Tegernseerhof, Grüner Veltliner Smaragd, Höhereck 2010
Oak-smoked peaches on the nose, rich, sweet-ripe Mediterranean fruits, with some fresh pineapple to support. Hints of firestone and pepperiness on the mid palate. Fresh and easy to appreciate, but has concentration and intensity of flavour too. Nicely balanced.
2010 was "a tricky year. One of the smallest crops in the last decades, it was a challenge for the whole region. It's a vintage with very racy acidity, a style that's new for Wachau wines. Vineyard management has improved.  Fifteen to twenty years ago, I think it would have caused many difficulties, but it has produced an elegant focused vintage."
Weingut Rixinger, Grüner Veltliner Smaragd, Singerriedel 2009
Nutmeg-spiced compote of peach aroma. Smooth, medium body attack, creamy texture (possibly from malo?); rich, rounded, peppery warmth to finish. Notable intensity of creamy flavours (maybe the vintage?)
2009 was "an opulent, full bodied, classic vintage, with slightly lower acidity. The grüner veltliner Singerriedel is not that representative because it's lighter."
Weingut Piewald, Grüner Veltliner Kalkofen 2008
Sweet-spiced peachiness, fresher attack, more backbone for the white nectarine flesh. Nicely balanced with fresh core and honeyed stone fruit surrounds.  Some delicacy to complement the intensity here.
2008 was "a lighter vintage.  A cool autumn period and late harvest [created] a lot of tension on the palate. It's somehow chalky, and salty on the palate."
Graben Gritsch, Riesling Setzberg 2007
Floral perfume, tangerine and crystallised fruit notes to fragrance. Very youthful aspect of primary fruits, silkily textured, delicate, and floral. Delicacy belies some attractive intensity of fruits. Cool and concentrated.
2007 was "a classic balanced vintage." The riesling is almost showing off in the glass."
Weingut Johann Donabaum, Grüner Veltliner Point 2006
Hint of colour development here to a pale gold colour. Hints of mint leaf and peach melba on the nose. Full bodied, sumptuous palate, rich, with hint of phenolic structure  adding muscularity on the mid palate with a note of warmth at the end.
2006 was "one of the best vintages.  It used to be called a vintage of the century."
Weingut Högl, Riesling  Bruck 2005
Aromatic, floral, white peaches. And freshness, lift, linearity typical of riesling. Beautifully harmonious, elegant with concentration. Firestone, floral perfume, fresh acidity, little sign of age, just a hint of gunflint-smokiness in the citrus core. The first flush of youthful primary fruit is just beginning to move into a different place.
Weingut Schmelz, Grüner Veltliner Höhereck 2004
Fat, creamy peaches, aromatic spicy smoked note. Full, hints of slatiness coming through, though very little sign of age showing – just a hint of smokiness maybe. Rich ripe stone fruits throughout. Nicely balanced, with that savoury note of definition. Rich and round, as is typical for many grüner veltliner  smaragd.
2004 "was a vintage that initiated a new way of quality thinking, this year brought a new approach in even later picking for Wachau producers. Must weights, ripeness was not enough, so let's wait till we get to smaragd level."
Weingut Holzapfel, Grüner Veltliner Achleiten 2003
Peppery and pebbly on the nose. Chalky note on the palate attack which refreshes, creamy texture mid palate. And savoury (phenolic) note coming through, which compensates a little for the lack of acidity.
2003 "wines are unique. It was a very dry summer, with drought and water stress. The mistake in 2003 was to pick too early, just on [potential] alcohol level – these wines do not age long. This wine has certain degree of astringency which is balancing the slightly lower acidity."
Weingut Jäger, Riesling Steinriegl 2002
Floral, citrus, firestone, stony nose with silhouette of petrol/kerosene. Really enticing perfume giving way to lightness with intensity and energy on the palate. Fresh, upright, some tautness, and very little sight of ageing. Really all still primary fruit on the palate with maybe just a hint of savoury development. Long finish, delicious.
2002 was "a well balanced, slightly warmer year, with huge floods in Wachau. The Danube was at its highest level since the end of the 19th century.  A lot of texture in the wines."
Weingut Hofstätter, Riesling Singerriedel 2001
Aromatic smoke as first nose, maybe suggesting some age. Quite a full riesling, primary fruit moving to back as savoury steeliness and tropical fruit combine to a yellow focus for this wine. Upright and still tense, but beginning to let the flesh fill out. Feels like warm fruit origins yet with a very nice gentle balance.
2001 was "a normal growing period. Elegant and focused vintage and underrated after the top 2000."
Weingut Sigl, Grüner Veltliner Steiger 2000
Very pale gold colour. Sweet honeyed suggesting a small proportion of botrytis fruit, with spiced pepperiness to richly-textured dry palate. Warm and almost honeyed dry toast note developing into something slatey and really tasty.
2000 "and 1999 were two very high end vintages next to each other. 2000 was warmer, with drought and water stress influence."
Weingut Franz Pichler, Grüner Veltliner Kollmitz 1999
Perky and peppery nose, feels fresher than previous. Creamed cobnuts and peach melba flavours. Silky smooth texture, with serious complexity coming through here. Holding this wine in the mouth reveals layers of flavour and character. Wonderful, soft and cuddly almost!
1999 was "a very high end vintage.  A racy, spicy, leaner, classic year, with an average growing season. The grüner veltliner  Kollmitz is showing spices, dried herbs typical of grüner veltliner  with ageing."
Weingut Lagler, Riesling Smaragd, Steinporz 1998
Pale golden hue. Some toasted maturity on the nose of this one. Finally a distinctive bottle-age note of toast and maybe a bit of lanolin. Smoke and slate and rubber aged notes amid plush tropical yellow fruits, mango, pineapple. Big wine, huge concentration, with taut mid palate and fresh, cleansed finish. Long after flavours. Very nice.
1998 was "textbook. This wine is dominated by a lot of botrytis, you see it in the colour."
Weingut Prager, Riesling Steinriegl 1997
Spiced with petrol development on the nose, precise and focused even now, with little broadening of flavour. Ripe dry-smoked peach and nectarine, tangerine notes. Complex, fine, chalky freshness of texture. Remarkably fresh, outstanding wine.
1997 was a "warm, classic, year with no botrytis. There is a lot of spiciness and freshness in this wine."
FX Pichler, Grüner Veltliner Kellerberg 1996
Smoked and char-grilled pineapple aromas, with aromatic smokiness, rich, creamy-perky texture, acidity feels fresh and freshening core still. Citrus notes on this grüner veltliner even now. Big wine, big flavour, but by no means broad or fat.
1996 had "a terrible, rainy, cool September with no increase in the must weight. This wine is a good example from the year."
Weingut Rudi Pichler, Riesling   Kirchweg 1995
Fresh, floral-spice nose, barely a hint of petrol (but a hint), peachy, apricot, lots of primary fruit still. Not much age at all.  Maybe some development in the texture, dry, refreshing chalkiness. Some nice delicacy with intensity here. Another big flavoured wine.
Domäne Wachau, Riesling Achleiten 1994
Fresh, lifted, hints of petrol, lively and lovely. Not so complex, but very drinkable
1994 was "a very dry year, very ripe, with lower acidity."
Weingut Leo Alzinger, Riesling Steinertal 1993
Perfumed firestone nose without petrol or other sign of age. Fresh, taut, still, deep and enticing, with chalky texture and good concentration
Weingut Nikolaihof, Riesling Im Weingebirge 1992
Delicate petrol nose, with soft peachiness alongside. Rich, supple, enticing, like drawing you into a dream.
1992 was "a very warm year, with hot summer, and many days over 30°C. Lower acidity."
Domäne Wachau, Riesling Terrassen Thal 1991
Bright, floral, rose petal, attractive and incredibly youthful. Somehow, fresh peachy and delicious.
1991 was "a cool, late flowering at the end of June in Wachau. It was rainy all summer long; no-one expected a great year.  Then a nice September and October saved the year. There are not many 1991s left on the market."
Domäne Wachau, Riesling Bürgerspital 1990
Pale gold, that smoky gunflint-sparky note of aromatic wafting smoke. Savoury and dry and dried-fruit concentration. Complex and delicate and enticing. More-ish.
Weingut Hutter, Grüner Veltliner Rothenhof 1989
Smoke and honeyed dry toast. Creamy full body, dry, losing its fruity appeal but still with attractive savoury, spicy notes. Creamy and broad, and the wine perhaps most showing its maturity.
1989 was "a cool year and difficult to reach smaragd quality. Vineyard management not as good as it is today."
Weingut Jamek, Weissburgunder Hochrain 1988
Medium gold colour. Full-fat weight and still fresh for that. Savoury, with sweet fruit core, and smoky wafting finish. Baked pineapple and tropical fruit, moving to an attractively broad finish. The only weissburgunder in the flight.
1988 was "a slightly warmer vintage"
Weingut Knoll, Grüner Veltliner 1987
This wine is from Loibenberg, but not mentioned on the label
Pale gold colour. Smoke and pepper nose, rich creaminess edging towards a fine textured smokiness. Still a freshness that belies its age. Round and mellow.
1987 was "a cool year and difficult to reach smaragd quality. This was the beginning of the Vinea Wachau organisation."
Weingut Hirtzberger, Riesling Hochrain Honifogl 1986
Spicy firestone nose, fresh and complex, barely a hint of petrol, more gunflint/spark, and fire smoke. Intense, fresh, no more floral notes, but no real signs of maturity, suggesting a longer life still ahead. Has moved into a slatey, firestone, 'mineral' sort of place, with wonderful proportion and balance. A vin de meditation.
The name honifogl was changed to smaragd after this vintage.
1986 was "one of the great, classic vintages."
---
Please feel free to comment on this article