Published by Sally on January 23, 2013

Domaine de l'Arjolle in the Languedoc makes a range of varietally-labelled wines under the IGP Côtes de Thongue appellation, including France's only zinfandel, from their 90 hectares.
Charles Duby, their viticulturist gives a great session on the role of the soil. "Fifteen million years ago" he said "this was under the sea" explaining the limestone bedrock from the bottom of his soil pit.
His work, he said, "the work of the vigneron, is to work the soil to help the 80% of the feeding roots that lie within 70cm depth" from the surface.  "Some roots go deeper" he said "20%, to find water at 3-4 metres depth."
But his role is to nourish the top part, ensuring there are enough nutrients available for the vine to take up. And there are three ways to do that:
Firstly, to use ripping machines, which they haven't used at d'Arjolle.
Secondly, to keep grass and weeds in autumn and spring. "The roots aid water filtration" he said, and "we cut them in spring and plough them in" and this organic matter helps with nutrition and porosity as it rots down.
Thirdly, earthworms are encouraged via additional organic matter which is applied in November or December. Duby said "the organic matter is from grape marc and goats' bedding (straw and faeces) which are mixed together for nine months, and about 4t/ha applied every two years."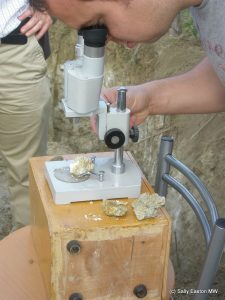 We examine the limestone content of the soil under the microscope. A microscope in the vineyard is an enjoyable first for me. Duby explains they do this, before planting, to determine what rootstock to use. SO4 on limestone, and "if there's less limestone, we use 101-49" he said.
It all makes so much more sense when you stand there looking at it.
My visit to the Languedoc was sponsored by a group of half a dozen producers.
---
Please feel free to comment on this article