Published by Sally on June 24, 2016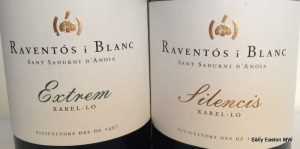 I tasted a couple of interesting still wines from these originally "Cava, not Cava" guys, Raventos i Blanc, who are pushing the boundaries of expression for their indigenous cultivars.
I struggled to appreciate one of them, and loved the other. Somewhere in their literature, the producer states both are 'natural'. Now my appreciation of 'natural' wines is still reticent. I'm not philosophically against natural wines, it's just there are too many faulty wines for my liking. But, apropos of nothing, it was the one with the "reduced use of sulfur dioxide" that I preferred – Extrem.
I'm reminded of certified organic wines in the early days, so 20 years ago and more. The organic principle was grand, admirable and aspirational, and quite often the wines were unremarkable, sometimes faulty. My view was: if it was a good wine, and it happened to be organic, then great. But organic was no guarantee of anything very much. Times have changed in those 20+ years. Organics is still grand, admirable and aspirational, and very often the wines are deliciously remarkable.
Maybe 'natural' is just something at the beginning of its curve, as organic was all that time ago (just without the definition and without the certification). Now, if a wine is good, and it happens to be self-monikering as 'natural', then great. In another 25 years, perhaps we'll be saying something different about so-called 'natural' wines.
It's a thought.
As it happens, both these wines are certified organic.
Raventos i Blanc, Silencis, Xarel-lo 2015, Penedès DO
Not too aromatic, quite neutral nose, a faint lemoniness. A bit of a steely sensation on the nose.  Smart texture, smooth and dense.  Good weight and density on the palate, but of what I'm not sure. Texturally and volumetrically a serious wine of fine craft. But elusive flavour. It doesn't really engage me emotionally or intellectually, I'm left wondering what happened to the flavour characters and intensity.
Tech spec
Raventos i Blanc, Extrem, Xarel-lo 2015, Penedès DO
Named to express "the extremes of the nature of our vineyard"
Steely, salty, preserved lemon, lots of upfront flavour intensity, aromatic spice, cardamom maybe, fennel hint. Clearly complex. Sweet weight, some sweet pastry flavour and texture on the mid palate, which is given freshness and vibrancy by the wine's tingly acidity. Concentrated, with rich extract on the palate, and creamy-textural finish. Really tasty.
Tech spec
---
Please feel free to comment on this article