Published by Sally on June 7, 2011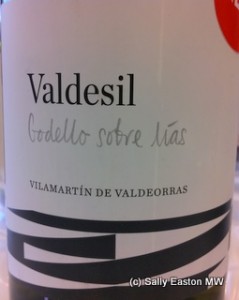 Bodegas Valdesil, Godello 2009, Valdeorras, Spain £15.99
Waitrose Wine Direct, and from four dozen of their branches, so check first.
13.5%
 
This was the outstanding wine from Waitrose's recent press tasting. It's a real stunner, complex, sophisticated, layered with freshness running through its veins.  
The Valdeorras appellation is tucked up in the lush, green valleys of Galicia in the north-west corner of Spain, just north of Portugal.
The wine is made from 100% godello, a white grape variety native to the region, with just over 1,000 hectares planted in the whole of the country. The family-owned estate in Vilamartin de Vadeorras grows their vines on the slate slopes of the Sil valley, at around 500 metres above sea level. Such altitude, with the cool nights that it brings, is one of the things that retains the fresh core of this wine.
Another thing that retains freshness is an absence of malolactic fermentation, which absence also preserves primary fruit aromas. It's been aged on its lees in stainless steel for six months before being bottled in December 2010. 
The wine is serious and sumptuous, dense with concentrated fruit flavours. Melon, dried peaches and apple concentrate swim abundantly and intensely in a deep pool of fresh flavours. The balance is enhanced by a rich and succulent mouth-feel, which lingers a long time. This is a wine that widens the eyes in appreciation as the flavour explodes and the wine's velvet texture strokes the palate.
---
Please feel free to comment on this article