Published by Sally on October 1, 2013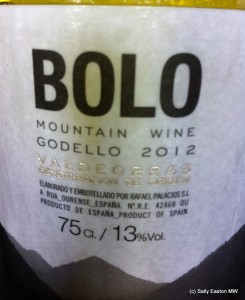 Bolo Godello 2012,
Valdeorras, Spain
£9.95
Cork, 13%
Wine Society
The scions of Rioja-producer Palacios Remondo have spread east and west of their home region. Rafael Palacios, who makes this delicious godello in the north west of Spain, is the younger brother of more famous Alvaro, who helped to shape the revived reputation of Priorat, east of Rioja.
Rafael Palacios bought his first vines in Valdeorras in 2004, and now owns 22.5 hectares of godello, in numerous plots. Galicia is proving to be the Spain's 21st century white wine revolutionary epicentre. Where albarino went before, in terms of revitalised region and fresh, fragrant, substantive wines, so godello is now following.
Bolo godello, generally said to be the younger sibling of Palacios' As Sortes godello cuvée, is peachy and lemon-pithy on the nose. On the palate the fruit attack is sweet, fresh and lifted all at the same time, with a good density of sappy, tangy peachiness. Freshness is a hallmark, and the wine finishes with a hint of green apple on the finish. Really very nice. And super value at less than a tenner.
---
Please feel free to comment on this article