Published by Sally on October 24, 2015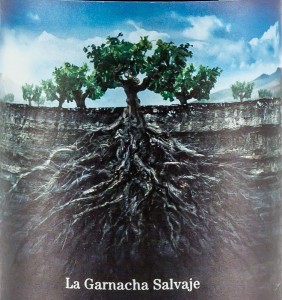 Salvaje del Moncayo, Garnacha 2014, Spain
Wine Society £6.95,
13.5%
This was a star for me of the recent Wine Society press tasting. Full of flavour and outstanding value.
The nose is floral with fresh beef steak and cranberry additions. (Probably not the most enticing note, but reminds me of a delicious, fresh bit of steak just unwrapped and waiting to be pan-fried). The tannins are light, gentle and fresh and the core is perfumed and lifted. There's a hint of black pepper at the finish. Which all go to make a delicious garnacha, Jim, but not really as we know it – it's gentle, fresh, floral, not huge, big bodied and alcoholic. And it's really easy to drink, so be careful!
Possibly the high altitude (800m above sea level) of the vineyards – on the north (cooler) facing slopes of the Moncayo mountains in Aragon – has helped preserve the perfume and freshness of the grape variety.
I'm told this wine will be part of a Spanish offer the Wine Society are running from November 9th to December 18th. Not sure if there's any money off this particular wine in the offer, but to be fair, it doesn't really need it. It's cracking value as it is.
---
Please feel free to comment on this article