Published by Sally on July 17, 2013

| | |
| --- | --- |
| Title of book: | Sweet, Reinforced and Fortified Wines: grape biochemistry, technology and vinification |
| Author: | Edited by Fabio Mencarelli and Pietro Tonutti |
| Publisher: | Wiley-Blackwell |
| Publication date: | 2013 |
| ISBN | 978-0-470-67224-2 |
| Pages: | 357 |
| Price: | £130.00 / €165.10 |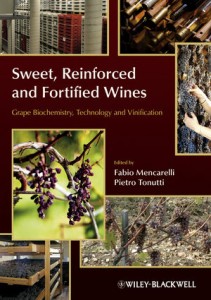 With a title like this and a price tag like that, this book is going to appeal to the seriously nerdy, and indeed, the winemakers, vineyard managers, oenology students etc., at whom the briefing document says it is targeted. Keen MW students might be in that list too.
I had to check what reinforced wines are. It's not a term I've ever used. Fortunately there's a small glossary at the beginning: "dry wines (generally, but not exclusively, red) characterised by higher alcohol and secondary metabolites content produced with partially dehydrated berries". I guess that means the likes of Amarone and Valpolicella Ripasso, for example.
A lot of the book looks at dehydration, both on (late harvest, botrytised wine) and off (straw wine, Pantelleria, Amarone) the vine: how to manage dehydration in the vineyard, what changes occur in grape biochemistry, physiology, phenolic and aromatic compounds. Then it looks at managing those altered properties in vinification. Nearly half the book is subsequently dedicated to going through various sweet and fortified wines by style.
We start with a brief history of the origin of sweet wine in the Mediterranean region, a warm, sunny area where it was easy, in ancient times, to leave fruit on the vine or pick the bunches lay them to sun-roast or wind-desiccate for a while.  Anomalies to this category include Amarone from northern Italy, the fortified wine category, and the 17th century onwards expansion of sweet wine appreciation to such places as Sauternes and Tokaj.
There's a strong Italian theme to this book, not least because three quarters of the contributors are based in Italy. Almost all contributors are university-based, plus a smattering of others, including winemaking consultants/producers. Italy's wealth of sweet styles receives due prominence, so expect to improve your knowledge of little-known Italian cultivars, which is quite an enjoyable journey in itself.
Despite the varied cultivars used to make sweet wines (by dehydration, reinforcement, fortificication or other), it's good to know they all have some consistent characteristics, such as relatively loose bunches of moderately-sized, thick skinned berries that are free from disease and with a low propensity to rot. The authors go on to make a special case for Sauternes and other botrytised-grape wines, which constitute drying due to the metabolism of the fungus, to which typically thinner-skinned berries are more susceptible.
Dehydration on the vine is logically subject to natural conditions as modified by canopy management techniques, but when grapes are desiccated off the vine, more choices and technology opens up to winemakers.
Were taken into the detail of cell metabolism changes during dehydration and how that can be influenced by kit and atmosphere to optimise the type of fruit required. We learn a slow drying rate is better than fast because it minimises internal berry stresses, thus modest temperature is better than higher, with relative humidity controlled so dehydration is not too fast (low RH) or too damp (high RH) which might encourage fungal infection, especially where ineffective ventilation exists.
For sure, in a book of this ilk, there's lots of scientific stuff, formulae and tables, which are fodder to specialists, but there is also plenty of more accessible information for those wanting to learn how particular desiccation techniques influence the compositional make up of part-dried grapes, or the latest technology for Amarone and Recioto drying rooms.
The book develops its themes via a series of articles by authors at research institutions. Collectively they build a detailed picture of the latest knowledge on concentration and alteration of berry components and aromas during various drying processes, and how best to preserve the desired characters during the winemaking process.
It's great to have all this technical information in one place. It makes it easier to draw inferences and comparisons between wine styles. Part three allows this especially, which details the issues by wine style, including Amarone, various passiti and vin santi, Malaga, Tokaji, icewine, Port, Marsala and various botrytised wines.
---
Please feel free to comment on this article