Published by Sally on September 11, 2011
1 Comment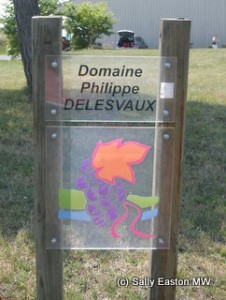 Philippe, and his wife Catherine Delesvaux, of the eponymous domaine, make exquisite sweet wine of the highest order in the Loire's Coteaux du Layon.
Their 10.7 hectare domaine lies between the Loire and Layon valleys, located on the hillsides of the Corniche Angevine, which is within the UNESCO world heritage site that stretches from just west of Angers to Sully-sur-Loire, east of Orléans.  White wines account for seven hectares, including 1 ha of ungrafted chenin blanc.
The couple have been making wine since 1978 of which year Philippe, previously a research at INRA, said "I had cows, corn and wine.  In 1985 I decided to make good wine." His specialty is sweet wine, and he makes two red wines, one each from cabernet franc and cabernet sauvignon.  He said "we're on top of a hill and we have two valleys. With mist coming off with the sun, the leaves are wet, and for noble rot you need three things – warm, wet and wind.  If one of these three is not there, you cannot have botrytis."
The domaine is certified organic, in addition to which Philippe said he "practice[s] biodynamics and [is] a member of the Renaissance des Appellations [Return to Terroir]".
Soils in the Loire valley can get very complicated.  Here the soil is schist, underneath a 'pudding' conglomerate from broken stones. Delesvaux said "this [conglomerate] is glacial moraine from the Brittany mountains [which used to be around 7,000 metres high] of the Massif Armoricain.  This moraine filled in the holes in the landscape, so it can be 5m deep or up to 30m deep."
In another twist, one of his single vineyards, the Clos du Pavillon, is on coal. The Delesvaux's village, La Haie Longue, is an old mining town.
They planted one hectare of ungrafted chenin, said Catherine, because "we wanted to find again the authentic taste of the vine before phylloxera."  But what about phylloxera coming into the vines?  "For 10 years we're safe" Catherine said "and to plant one hectare is the price of a very big car" which after 10 years if pretty much worthless, so they feel the costs balance out in their quest.  The soil on this plot is schist with a little sand.
The domaine sits between the rivers Louet and Layon, where regular mists rise of the waters, so it could be argued their sweet wine specialty chose them.  Philippe said "our vineyards are made for sweet wines. It is difficult for us to make dry wine." But, he added of the Feuille d'Or and Authentique (both Anjou Blanc) wines "our aim is for dry wine, but we don't always achieve it".  Thus, on these two wines, 'sec tendre' appears on the label in some years, when there is a bit too much residual sugar to achieve a 'sec' designation.  In 2010, said Philippe "the level came in high, so there is no Feuille d'Or because the sugar is too high.  We let it go into the passerillé and we made sweet wine."
The couple make three cuvees of Coteaux du Layon.  It is the first harvest that provides the noble rot selection, which they harvest in mid-October.  The second harvesting is a mix of half noble rot and half  non-botrytis, late harvest.  And the third harvest is all passerillé – of late harvested, over mature, and non-botrytised fruit.  This usually takes place at the end of October or beginning of November.  At this end of the season said Philippe "in one week there are a lot of changes."
As to the winemaking, Philippe explained, with his usual glint of the eye "the more botrytis the more barrels, because it needs time to ferment, and barrels are better to control the temperature, they are better to keep an eye on your babies!"
Delesvaux achieves huge sweetness in is wines, with a raciness of acidity that accentuates the focus and precision of the palate.  For 15 years he fought to get Sélection de Grains Nobles (SGN) recognised as an official designation for Layon wines.  He said "we worked with Alsace winemakers for this, and since 2002 SGN is an official mention.  It must have more than 19% potential alcohol; no sugar can be added; there's no minimum alcohol, and the more botrytis you have the lower the alcohol because it can take a year to ferment." It cannot be marketed until two years after the harvest.  Philippe added "our level for SGN is 22 to 23% potential alcohol."
His wines are from the very top drawer.
Tasting notes, in situ, August 2011
Anjou Blanc, Feuille d'Or 2008, Sec
Philippe: "2008 was a cold vintage, which gives a high minerality; and a cold vintage on coal smells of oxidation, which is not typical.  1994, 2004 and 2008 got this smell."
It certainly smelt of oxidation to me, quite cidery, and challenging to understand.
Anjou Blanc Feuille d'Or 2009, sec tendre, €11
The same plot in a warmer vintage, with 10g/l RS, therefore 'sec tendre'
No oxidation smell. Bruised, fresh apples and Mediterranean fruits, and the hint of sweetness creates a pleasant balance with the ~8.5g/l acid, expressed as tartaric.
Anjou Blanc Authentique 2009, Sec tendre €19
Ungrafted vines. Stony nose, stone fruit, with some lovely layering of fruit and stony stuff, with a well-depth of flavour, apricot and firestone.  It tastes off dry and very nicely balanced indeed for that.  Elegant, intense and very good. I'd drink this as indulgent aperitif.
Coteaux du Layon, Saint Aubin Passerillé 2010 €11
Always made in tank. This is the third trie, or harvest. 100g/l RS.
Apricot, hints of mango, precise focus and purity, with exquisitely defined and racy acidity, which brings the perception of sweetness down to around 60-70g/l RS to my palate. Huge intensity and focus here, with tropical fruit a-plenty at its crunchiest ripeness. Lovely balance and dreamy elegance. Vvg.
Coteaxu du Layon, Saint Aubin, Les Clos 2010. moelleux, €12.50 / 50cl
All made in tank, though the 2009 was in old oak.  This is a 50:50 passerille / noble rot, so from the second trie / harvest. 11.5%. 130g/l RS. The grapes from Clos de la Guiberderie and Clos du Pavillon.
Hints of sweet spiciness on the nose, quite subtle. Fruits more in the succulent tropical fruit spectrum with mango, bake pineapple, honeyed apples and still racy acidity. A wine that demands attention. Very good (my preference is for passerillé purity).
Coteaux du Layon Saint Aubin, Selection de Grains Noble 2008, €30 / 50cl
Botrytis fruit from the first trie / harvest. The grapes from Clos de la Guiberderie and Clos du Pavillon.  200g/l RS. ~10.5g/l TA. 11%.
Spicy, clean mushroom compost, apricot compote, concentrated essence of gently spiced fruit. Long. Concentrated. Good.
Coteaux du Layon Saint Aubin, Selection de Grains Noble 2009
Warm and sunny vintage. 200g/l RS; ~9.5g/l TA, 11%
Spiced ginger, juniper, allspice, pure and round. More expressive and immediate than the cooler 2008. Almost supple in its enveloping flavours. Very nice indeed.
Coteaux du Layon, Saint Aubin, Selection de Grains Noble 1997
212 g/l RS.  Golden colour, mushroom, with burnt barley sugar, salted caramel and crème brulée of a gracefully maturing wine.  Supple and oozing with richly spiced botrytis flavours, a little reminiscent of a few putts Tokaji.  Unctuous, long, still with framing freshness.  Lovely.
My research visit to the Loire in August 2011 was sponsored by InterLoire.
---
Comments
One Response to "Domaine Philippe Delesvaux"
MIN NOH Says:
February 24, 2014 at 11:37 pm

good exact review, thank you