Published by Sally on August 30, 2011
3 Comments
| | |
| --- | --- |
| Title of book: | Wine, Terroir and Climate Change |
| Author: | John Gladstones |
| Publisher: | Wakefield Press |
| Publication date: | 2011 |
| ISBN | 978 1 86254 924 1 |
| Pages: | 279 |
| Price: | AUD$59.95 |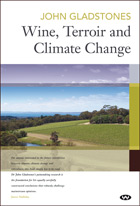 Gladstone's earlier book – Viticulture and Environment (1992) – was a seminal text on climatic and geomorphological influences on grape growing, and any sequel to that book has been too long in the waiting.
In this volume the agricultural scientist explores the history and science of soil and climate in wine production, and normalises the term 'terroir' for Australasian usage, where in the recent past the term had been a preserve of European expression.
The book kicks off with a three-page definition of terroir with the only possible conclusion that it comprises the total geography of a vineyard's locale, and includes man's intervention as "good wine reflects the terroir(s) of its origin".  Scale of site can be small or large depending on climato-physical parameters.
So far, so uncontroversial, and the rest of the first half of the book explores the innumerable interactions that go to make up terroir.  To this end, there's plenty of science and numbers in the book for the academic and quasi-academic reader to get their teeth into, presented in an eminently readable and persuasive style. Occasional hypotheses and discussion paragraphs appear, such as one relating 'grape ripening to root-produced hormones, influenced by a combination of both soil and atmospheric conditions.' These are accompanied by countering arguments to the hypotheses, and a fully referenced text directs further research for anyone so inspired.
Effectively, Gladstones expounds temperature as the big climate driver of viticulture location and growth development, on which other big things overlay, such as continentality, cloud cover, luminosity, day length, wind and humidity.
He then neatly delves into above-ground geomorphology before exploring the below-ground environment of root functioning, where the influence of water is a common denominator of both locales. Temperature of soil and roots is discussed as a significant terroir effect.
Much of the second half of the book concerns itself with natural and man-made factors of climate change, with the author reviewing and critiquing previous studies as well as the premises for some of the IPCC (Intergovernmental Panel on Climate Change) modelling.
Controversially, perhaps, Gladstones concludes that the effects of climate change, at least viticultural climate change, have been over-egged. He concludes viticultural Europe was warmer in the Medieval Warm Period of 900 to 1300 than in the late 20th century, before submerging into the 15th century Little Ice Age, from which Europe began to emerge properly only in the 19th century. Gladstones suggests this as an explanation for the recent demise of very late ripening Bordeaux varieties carmenere and petit verdot, though it should be said the latter is in resurgent mood again in Bordeaux.
Gladstones presents his arguments in a likely and engaging read, weaving together the myriad factors affecting vine growth, the result of which is he poses more questions than he set out to address. There's a huge amount of food for thought here for anyone interested in understanding why particular vine varieties do well in particular places, and where they might do well in the future.
---
Comments
3 Responses to "Wine, Terroir and Climate Change, by John Gladstones"
RIch Says:
February 17, 2012 at 12:36 pm

Is this book available to buy and send to the UK as I'm based in UK?

Sally Says:
February 17, 2012 at 1:34 pm

Hello Rich,
You could try direct from the publisher (link on the review). Otherwise, I'm not sure. I was sent a review copy. Amazon is my failsafe, but they're not showing it.
Sally

Roger Mackenzie Says:
October 11, 2013 at 9:40 pm

the publisher offers a .PDF version for AU$30 at their web site. I've not followed up on that.