Published by Sally on July 2, 2013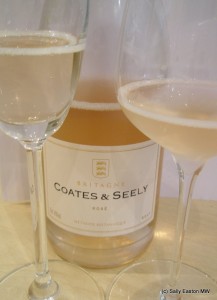 Ex-city financier Nick Coates and Christian Seely, of AXA Millesimes managing director pedigree, first met over a quarter of a century ago. They got back together in 2008 to create the Coates and Seely English sparkling wine label.
Coates explained "we're convinced of the combination of chalk soil and virtually identical climate as Champagne."
The 2009 vintage was their first release.
They had teamed up with Daphne Cunningham who already had about five hectares of established vineyard at Wooldings Farm near Whitchurch, in Hampshire, about a third of which was planted to classic Champagne varieties chardonnay, pinot noir and pinot meunier. The rest are being grafted over or replanted. The pair expanded the vineyard to 12 hectares in 2009, to the classic trilogy of cultivars.
The original vineyard is planted on a west-facing slope with a faint nod to the south, and the new vineyard is planted to salute the morning sun, both sites importantly not far from sea level at around 50 to 100m altitude.
Coates and Seely also manage or source fruit from other vineyards, amounting to about 100 hectares in all. Their aim is to build volumes to 100,000 bottles in the near future. Apart from anything, this is the capacity of the winery they've build in an ex-dairy shed on Cunningham's property.
They've had fun (and expense) in the winery too, with stainless steel, older oak barrels and some concrete eggs adorning the shed for the fermentation and ageing of the base wine. Coates said each gives something different to the wine.
There's a slightly bemusing doffing of the hat to the Champenois at this producer. Clearly they want to access the expertise that comes from Champagne, but Coates said Coates and Seely "does one thing – makes English sparkling wine", yet they label the wine 'Britagne', spelt as in Champ-agne, but pronounced as in 'Britannia'.
Firstly why not just call it Britannia rather than needing an awkward spelling and pronunciation lesson every time it's mentioned? And secondly, why the doff to France at all if the product is designed to be so English in positioning?  I'm left a little perplexed, though I know the idea is to have multiple wine brands using the 'Britagne' moniker, as Champagne is the moniker for all sparkling wine brands made in Champagne. English sparkling wine doesn't quite do the job for these guys. Then there is a further doffing by putting the term 'methode Brittanique' on the label. I have to say some of this looks a bit French for blighty, but it certainly gives them a USP.
The Brut Reserve has just – literally, June 2013 – been released for the first time, a new wine. This is the line that's set to be the mainstream one for the brand, with the pink and blanc de blancs playing support roles.
Wine tasting, in situ, June 2013
Coates and Seely, Rose NV, English sparkling wine ~£30
Given the project is so new, this is all 2010 fruit, 2/3rd pinot noir, 1/3rd pinot meunier. On lees for 15 months; 9g/l dosage.
Attractive pale onion skin pink. Delicate nose of redcurrant, rosehips, and strawberry leaves. Fine mousse on the attack, strawberry and fresh-cream core, of intensity and good fruit volume. Delicate bubbles with lovely sweet-creaminess to balance the fresh acidity. Good length. Pretty classy.
Coates and Seely, Brut Reserve NV, English sparkling wine ~£29
Again, this is mostly all 2010 fruit, plus a bit of 2009 reserve, about 2/3rds chardonnay, 1/3 pinot noir, with 20 to 24 months on the lees.
Very pale lemon colour, with the faintest green tinge.  Citrus, greengage, briar nose with hints of floral blossom. Sweet attack, feels quite high on the dosage (awaiting info). Palate of green apple, very clean and focused, fine mousse again, but not picking up much savoury autolytic character. Long finish.
---
Please feel free to comment on this article