Published by Sally on March 3, 2011

Shiraz from around Canberra is proving to be a little gem, alongside its other jewel, riesling.  The region has long had its icon wine, Clonakilla Shiraz/Viognier, Langton's listed since 2005, coming from the oldest vineyard and winery in Canberra District, and others are aspiring to greater things.
Murrambateman is the main grape-growing area where much good shiraz is found, on granite, around 500 to 600m above sea level, in the warmest of the sub-regions.   
While the likes of John Kirk, of Clonakilla, who started planting shiraz in the 1972, and Roger Harris of Brindabella Hills, both ex-CSIRO scientists, started planting early, the current crop of young guns attribute the newly emerging phase of Canberra District in no small part to the investment by Hardy's (sold in 2011 by Constellation Brands to an Australian private equity investor), and in a bigger part to the exit of Hardy's, leaving many growers with vineyards coming up to a decade old – just entering their youthful prime.
The Collector – I imagine a dashing, urbane, man à la 60s/70s TV series 'The Saint', but this man is quiet, reserved, thoughtful and precise in that analytical manner of one who's made careful and conscientious decisions each with a desired micro-cumulative effect on his wine, and no less dashing – is one such winemaker who is taking advantage of small parcels of high quality fruit coming onto the market from growers who are less keen to run the risk of creating their own label. The brand is actually named after the nearby township.
Also known as Alex McKay, he grew up in Canberra, and having studied at Adelaide, thought "I'd never come back to Canberra to make wine."  Then "Hardy's invested, and I'd worked for them in South Australia and then here [in Canberra].  They'd taken the punishment, and the vineyards are starting to come into balance. I thought it'd be good to do something here."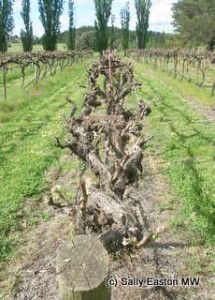 So McKay doesn't own vineyards, but, he said "I work hard on the relationships to make sure I get the control I need" in order to make a reserve style shiraz and a blend from a range of vineyards, "I'm in the vineyards a lot.  They are tuned to a high level, they're balanced, and they're ripe even before they're 13 Beaumé. Most finish out around 13% alc." His first vintage was in 2005.
Climate
This is modest alcohol for full ripeness in the usual Aussie paradigm, which suggests that shiraz is clearly happy here. Nick O'Leary, of Nick O'Leary wines said "It doesn't get too stressed, and nine out of ten years we get pretty good vintage consistency."  And McKay added "we're relatively continental, compared to a lot of Australian regions. We have a short growing season. Riesling comes form continental Europe, shiraz from one of the more continental parts of France. They need that type of season."   
Canberra District falls into Winkler region II, having 1410 HDD and an MJT of 20.2°C.
It's not all rosy though, as Nick Spencer, the winemaker at Eden Road Wines, cautioned, saying there are "classic, genuine terroirs where the summation of everything seems to work – specific sites where shiraz does well. But there is poor shiraz here too."
Canberra cooler
Spencer, who doubles as the president of Canberra District Wine Industry Association, was keen to distinguish the local wine from the heartland of shiraz in Australia. He said "I see Canberra [shiraz] as bony and structural, with silky gravelly tannins, and five spice aromas.  We couldn't make a Barossa style shiraz here. We get as much fruit flavour –dark fruits, but in the Barossa they're into dark fruits and chocolate."
O'Leary took the distinction further, saying Canberra is "more spicy and elegant than Barossa and Clare. And mine are lower in alcohol, only 13.5%."
There are several things that set Canberra District apart for Harris: "one is perfume, of violets. Shiraz is not heavy and weighted down with a load of tannin. It doesn't rely on weight and power, it's more seductive, and you want to have another glass of it. There's such a lot of Aussie shiraz that's appealing for the first glass but you don't want to drink much more."
The perfume is an important defining character for McKay too. He said "we're up high here. We get more violet aromatics, perfume characters" adding there's a "tightness of structure, and more red fruit, when done properly."
A bit of viognier helps to accentuate perfume in shiraz, and this Côte-Rôtie concept was pioneered in Canberra by icon winery Clonakilla.  Tim Kirk, son of founder John Kirk, travelled to the Rhône valley in the early 1990s, spending time with Guigal to see what viognier was doing.  He returned to experiment with the viognier that had been planted in Canberra in 1986, making the winery's first vintage of Shiraz/Viognier in 1992.
Byran Martin, Clonakilla's assistant winemaker said they "experimented with 1-2%. We went as high at 15% in 1997, but it dominated [the wine].  In 1998 we got it right with 5-6%."
McKay said his "viognier was up to 5%" having been just 2% in his 2009s. And O'Leary also co-ferments a bit of viognier in his shiraz.   
Hilltops hotter
Canberra wineries are increasingly taking fruit from Hilltops (Winkler region III, with HDD of 1880 and MJT of 22.5°C), a region about 100km from Canberra, in New South Wales.  It's some 100m lower than Canberra District, and notably warmer. 
Wines are made either exclusively from Hilltops fruit or blended with Canberra fruit. Martin, whose Clonakilla Hilltops shiraz has a firm following, said the Hilltops fruit "comes in two to three weeks before we pick the fruit in Canberra District. It has a harsher climate, and we're picking in February or March when the temperatures are hot" adding "from veraison to picking it's about a month. In Canberra District that takes 10-12 weeks."
O'Leary added "Hilltops is more mainstream, you don't get the spice you get in Canberra. They can ripen cabernet sauvignon, they're warmer [than Canberra]. Hilltops is a bigger style."
Wines tasted, in situ, October 2010
Brindabella Hills, Shiraz 2008, Canberra District
Black fruit spectrum on nose, rich dark fruits, quite open and approachable. Richness and density of black fruits, with smooth, fine, open-knit texture and spicy notes. Quite a big wine and holds the balance of that well. Nice. 
Brindabella Hills, Reserve Shiraz, 2008 Canberra District AUD$28
Sweet black plums, with allspice and star anise. Fragrantly aromatic, spices and violets, with smooth texture, and a rich/ripe combo of lush fruit with fresh core. Good.
Clonakilla, Hilltops Shiraz 2009, Hilltops AUD$25
Fresh and bright juicy fruit nose. Succulent plum and cherry juicy fruit of very good intensity.  Straightforward, with spicy hints, and just a little too easy to appreciate. 
Clonakilla, Shiraz/Viogner 2009, Canberra District AUD$85
Perfumed, aromatic nose of fragrant spice and allspice.  Very smoothly textured, ripe, complex, and seductively sweet-textured. Sweetly lovely mouthfeel. Long.  Vg.
Collector, Marked Tree Red Shiraz, 2009, Canberra District AUD$28
Allspice, cinnamon and red spicy fruit. Medium bodied, with smooth, lush sweet fruit and freshness from the backbone of clean acidity. All very nicely proportioned.
Collector, Marked Tree Red Shiraz 2008, Canberra District
Generous plum and strawberry fruit, juicy, fresh, elegant.
Collector, Shiraz Reserve 2009, Canberra District AUD$50
Fragrant strawberry bubblegum, with a spicy pink peppercorn nose, and violets.  Smooth palate attack, supple, juicy, with lift and retained backbone. Sweet, rich fruit, freshly balanced, with a long and refreshing finish. Vg.
Collector, Reserve Shiraz 2008, Canberra District
Smoky black fruit, warm and spicy. Smooth, rich, textured, lush strawberries and redcurrants, with backbone. Nicely structured with long finish. Vg
Eden Road Wines, The Long Road, Shiraz 2008, Hilltops
Warm juiciness, with aromatically spiced red berries. Supple fruit and oak. Soft-bodied, with some sweet, supple structure to support, rounded and fleshy rather than upright and backboned. (the warmer location?)
Eden Road Wines, The Long Road, Shiraz 2009, Canberra/Hilltops
Warm gentle plum, sweet fruit nose, then black acid core, more structured than the Hilltops 2008. Smooth, silky, completely integrated.  Blueberry and loganberry sort of spectrum. Dark black pepper finish.
Eden Road Wines, 'Reserve' Shiraz, 2009 Canberra District
Dark violet perfume, spiky attack, graphite backbone. Dark and lead-pencilly, with savoury dark berries. Rich concentration, silky texture. Good.
Long Rail Gully, Shiraz 2006, Murrambateman, Canberra District AUD$22
Slightly feral, pheromonal dark red fruit nose. Supple, sweet attack of dark berry fruits, with floral perfume mid palate. Smooth, lush mouthfeel without being super-ripe or hot. Rich density and sweetness, with a positive hint of warmth on the finish
Long Rail Gully, Shiraz 2008, Murrambateman, Canberra District AUD$25
Bright ruby colour, and bright cherry nose.  Smooth with fine-grainy open knit tannin, lush, ripe fruit, and good berry fruitiness. Seems a bit more elegant than the 2006.
Nick O'Leary, Shiraz 2008, Canberra District
With 5% viognier. Attractive bright berry fruits, supple attack, fresh, and fruit-focused, with depth and without heavy-bodied-ness.   
Nick O'Leary, Shiraz 2009, Canberra District
With 3% viognier. Sweet plum fruit and liquorice stick spice. Very smooth texture, rich, fleshy fruit, well toned, lush without being fat. Big sweet wine with some acid backbone and a fine texture. Taut finish. Good.
My research visit to Australia in October 2010 was sponsored by Wine Australia.
---
Please feel free to comment on this article