Published by Sally on April 13, 2013

The UK is more recognised than ever before for the quality of its sparkling wines.  More fruit is now channelled to sparkling production than still wine, but with new plantings continuing, is the UK at risk of making more sparkling wine than it can sell? Is the country heading for an inevitable bust?
The Institute of Masters of Wine (IMW) recently brought together luminaries of the UK wine industry to debate the country's future.  Consultant winemaker David Cowderoy, Ridgeview owner Mike Roberts and UK-specialist Stephen Skelton MW were joined by Justin Howard-Sneyd MW, at the time global wine director for Direct Wines (Laithwaites et al), in a session moderated by Nancy Gilchrist MW.
Skelton set the scene for the rise and rise of sparkling production, saying in the last generation "there have been a few days over 30°C, in Kent, but what's happening is we now have warmer nights. It's 1°C warmer at night than in the previous 30 years." In such a cool climate, that is a significant evolution. Cowderoy added that UK vineyard areas "have more sunshine hours than Champagne, [though] the rainfall pattern is significantly different, and even the chalk is not the same."
A further generational shift has been the balance of plantings swinging dramatically to classic Champagne varieties chardonnay and pinot noir. This has pushed down the rankings the 'traditional' Germanic varieties including Müller-Thurgau, seyval blanc, reichensteiner and schönburger.  Just bacchus, vinified into the country's top still white wine has increased plantings in the last generation.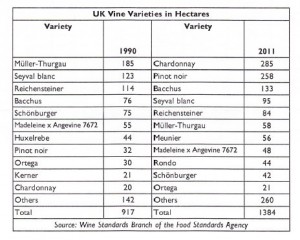 Cowderoy explained the UK's Germanic heritage, saying "there was a strong German influence when vines were first planted in England. A lot of plantations were set up on German lines". But, he said "the climate is more similar to Epernay [in the Champagne region] than the Mosel".  He dated the start of the sparkling wine 'movement' to the beginning of the 1990s, adding that "if we were not producing English sparkling wine, English wine would be no more than a curiosity produced by eccentrics".  The growing professionalism of producers has been a notable trend.
But with the explosion of new producers, which are beginning to come on the market now, Cowderoy warned they "face the biggest challenges. It's difficult to find a point of difference" he said, adding "routes to market are difficult. There are a growing number of producers and a finite number of distributors.  And retailers are reducing the number of suppliers" with whom they work. It's not a rosy picture.
Roberts painted a more upbeat picture for the industry, reminding the audience that "England is an area that can produce world-beating sparkling wine." His recommendation is "to find a market where [the product's] English origins will be viewed as elite" adding, for many UK producers "we have family production which is treated as a benefit of the product."
Family heritage counts for a lot with prestige production. Roberts' property, Ridgeview, he said, already "exports to ten countries including Australia, USA, Hong Kong, Netherlands, Denmark, Norway and Finland." And, he added "we export 20% of our volume and I would have no problem exporting all my volume", which is a position many would envy.
Howard-Sneyd said Laithwaites "last year became tenants of the royal family, planting vineyards in Windsor Great Park." For him there is no question that English sparkling wine "rivals Champagne for quality", to which he added "if consumers didn't believe English sparkling wine is as good as Champagne they wouldn't spend £20 to £30 on a bottle." Fair point, but when do patriotic gestures in the face of royal weddings, golden jubilees and Olympic Games become a solid foundation of repeat purchases?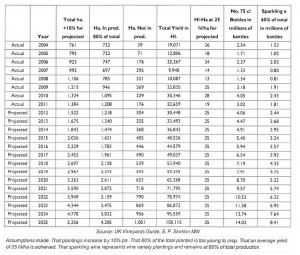 Such warning bells were sounded. Skelton forecast sparkling wine production of 8.4m bottles by 2025. This is more than a four-fold increase on current levels. Export may mop up some, but there are enough examples of other countries (on different scales) planting vines on the crest of a wave only to reach a tipping point of no return. A saving grace is that given the maturation lead-time for high quality sparkling wine, the industry has a year or two to create and implement a strategic plan.
---
Please feel free to comment on this article