Published by Sally on May 24, 2015

Conte d'Attimis-Maniago, Tenuta Sottomonte di Buttrio, Tore delle Signore Verduzzo Friulano 1992, Colli Orientali del Friuli
Tasted this delicious dessert wine the other day. Remarkably fresh and flavoursome for a 23-year old white wine. The full name is a bit of a handful though.
Enticing pale gold colour. A honeyed and hay nose, with liquorice root layering on the stone fruit compote palate, which also has notes of candied citrus fruit. The acidity is fresh and cleansing. Tasty maturity is showing with notes of treacle and walnut skin, and there are wafting aromatic smoky notes on the back palate. I love that the label tells of some modest residual sweetness: 11 + 3 = 11% alcohol plus around 50g/l residual sweetness. A super after-dinner digestif, and it went very well with a simple stewed rhubarb and strawberry combo.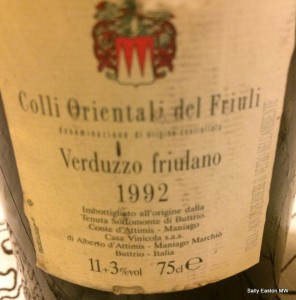 A little research reveals a 110-hectare property under the d'Attimis family for around 500 years. Nearly three-quarters of the estate is planted to local grape varieties. Verduzzo Friulano is just one of those.
The wine comes from south-facing vines on the hills of the Tenuta Sottomonte, in Udine, which are late-harvested to allow for the sugars to concentrate a little.
The book Wine Grapes tells me the cultivar is "ancient and characterful", making dry and sweet wines. The book also recommends this very producer. I agree.
---
Please feel free to comment on this article