Published by Sally on November 12, 2012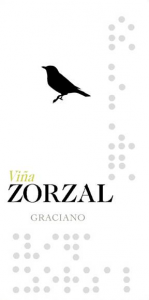 Viña Zorzal Graciano, Navarra, 2010
Vinicola Corellana
13% abv
£6.75
The Wine Society
This has to be one of the best value red wines being offered the Wine Soc just now.  Fabulous big, juicy intensity of immediate red berry fruits make this hugely attractive for an everyday wine. It's uncomplicated with all its focus being on fresh fruits; it's well balanced. It'll make a great Christmas and pre-Christmas party wine.
Graciano is better known as a supporting actor, alongside tempranillo and garnacha, in Rioja reds and the occasional varietal wines that emerge can be densely fruity with a herbal spiciness and fresh backbone all of their own. Neighbouring Navarra is probably better known for making varietal wines, from several cultivars, and it's a treat to taste such an appealing wine found by the Wine Soc team.
On the technical side, the wine is matured in French oak barrels (of unspecified age, I'm guessing not new) for four months. I just tasted succulent fruits, there's no overt new oak in this wine.
---
Please feel free to comment on this article