Published by Sally on November 12, 2015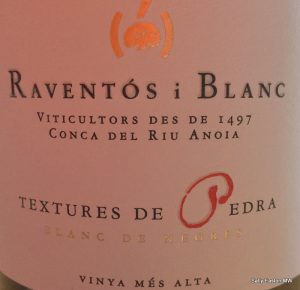 The short answer is when one of the appellation's top producers decides to leave the appellation structure and strike out on their own recognisance.
Raventos i Blanc left the Cava DO at the end of 2012. At the time Pepe Raventós said they wanted to return to the estate concept that the founder Josep María Raventós i Blanc had started over 20 generations previously. Their focus is on estate – terroir – wines. Their sparklers are vintage dated, which is not the norm in Cava.
So what was called Cava is now called quality sparkling wine from the traditional method.
The company has just released a new sparkling wine – a blanc de noir, or blanc de negres – from the 2011 vintage, called Textures de Pedra. This is the highest point of the property, where the soils are stony.
It is made solely from indigenous cultivars: 30% xarel-lo, 20% xarel-lo vermell, 20% sumoll, 20% bastard negre and 10% parellada. It's been aged for at least 42 months.
The Three-J's Wine Grapes (Jancis, Julia, José) has no mention of xarel-lo vermell or bastard negre (though Pepe Raventos says it is a local variety recently rediscovered on their estate and previously identified as monastrell).
What does the wine taste like? A really serious, muscular, complex, autolytic bubbly.
Raventós i Blanc, Textures de Pedra, Blanc de Negres 2011, brut nature, quality sparkling wine, traditional method.
Complex steely nose of bread dough and baked, savoury lemon. Fine mousse, palate of oatmeal and wholemeal biscuit. Palate is concentrated and full, bread, creamy toast, rich and shortbread biscuity. Savoury yeasty stuff, acidity fresh, but not tart, body rich and firm, with creamy roundness. Complex with really long savoury pastry case finish.  For me no actively red fruited elements or hints, rather it's about structure, richness, roundness, toastiness, freshness and complexity. It's a huge wine.
---
Please feel free to comment on this article