Published by Sally on July 30, 2014

| | |
| --- | --- |
| Title of book: | Native wine grapes of Italy |
| Author: | Ian d'Agata |
| Publisher: | University of California Press |
| Publication date: | 2014 |
| ISBN | 978 0 520 27226 2 |
| Pages: | 620 |
| Price: | £34.95 / US$50.00 |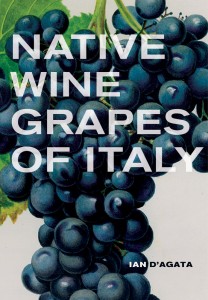 Hot on the heels of Winegrapes (of the world), here is a whole book dedicated to the cultivars just of one country – Italy. Mind you it is a country with a plethora of indigenous cultivars as well as a full complement of imported ones. D'Agata gets to grips with more than 500 of them, information researched over the course of 13 years. That's heading vaguely towards a third of the number of cultivars discussed in the aforementioned tome. Not a bad tally for just one country.
This is about as text-booky as they come, which is probably its best format, as the author says it is designed as "an academic text and a practical guide". More than 10% of the book is appendix, glossary, bibliography and indices – a general one and a separate one just for the cultivars. This is invariably the place I start with reference books.
Table 1, at the end, lists total plantings of the top 100 cultivars, including regional distribution of each variety. Another table shows the evolution of plantings of the top cultivars over the past 40 years, including the percentage of total vineyard they covered. I love stuff like that. Take the top one – sangiovese (no surprise there) – 86,400 ha in 1970 accounting for just 8% of Italy's vineyard areas. In 2010, there were only 70,300 ha, but now accounting for 12% of the vineyard area. It would have been even better if the table had included the actual total plantings so we could see the evolution of national vineyard size over that time. He does elsewhere give the 2010 total plantings – 652,000 ha. But what was the total vineyard planting in 1970?
A useful double-page spread early on lists the indigenous cultivars by region, and is followed up, some 40 pages later, with a textual summary of the same.
The first section introduces wine grape cultivars, their classification and identification, including what is meant by 'native', i.e. indigenous to a region/country. He moves quickly from ampelography – effectively vine physiognomy – to genetic profiling which has wondrously expanded our understanding of grapevine families.
The second section, comprising 80% of the book, goes through the 500, averaging a page a grape, though sangiovese justly gets nine pages.  D'Agata kicks off with grape groups and families. Moscato and lambrusco I've long known as families of grape varieties. Malvasia and trebbiano too. But I soon discover colorino is a whole family (rather than the minority cultivar of Chianti that I used to think it was!). Refosco too, in Fruili Venezia Giulia, among others. Each family member is detailed here.
Major cultivars follow, and finally lesser-known cultivars. Thirty of those cultivars in table 1 have less than 1ha planted. The entries finish with which wines to try to get a feel for the cultivar, three stars for estates doing best with that cultivar, one star for a product that still gives decent indication of what the grape variety is about.
I think it's quite simple: Italophiles will want this reference book on their shelves.
---
Please feel free to comment on this article