Published by Sally on November 4, 2012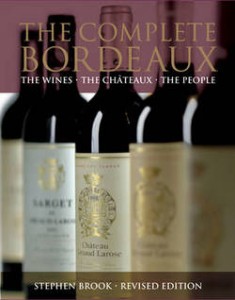 This is not a book for the faint-hearted.  There are some beautiful colour plates to conjure an image of Bordeaux as grandiose, as picturesque, as traditional, modern, old and young, and it is all of these things. But the 720 pages of this book are in a tight, small fount, thankfully on a calming, cream page. Those of reading-glass generation may require an extra half-point of magnification to ensure good focus.
The 60-page introduction charts the touchstone moments of Bordeaux's history with admirable concision, critiquing the main trends without dwelling on them. Terroir, especially Günzian gravels, and viticulture inevitably get a look-in, with notable vineyard trends really only taking place in the last 20 years. Worthy of note for Brook include a drawing back on the ready use of chemical fertilisers and pesticides, replacing with composts and cover crops, plus a greater use of green harvesting as a yield control method, and lower yields generally as a quality improvement measure. No huge innovations for sure, but in line with modern viticultural practice elsewhere in the world.
There's a practical précis on the use of concentrators and micro-oxygenation in the region, and Brook helpfully traces the evolution and growing employment of the consultant oenologist over the past generation, additionally listing the properties at which each consult.
There's also a useful vintage summary from the legendary 1961 to lighter weight 2011.
The other 650-odd pages of Brook's tome detail more than a thousand properties' histories and recent stylistic moves by appellation, with vineyard plantings and production figures alongside owners' information.  Each appellation is introduced, including, for Médoc the basics of the cru bourgeois debacle and rebirth, and, for Margaux, its viticulturally-recent boundary fluctuations. Given the size of Bordeaux, this must have been a pretty mammoth undertaking to revise this book.
We need books on Bordeaux. Brook is right in his observation that Bordeaux is more than one step removed from those who would like to know more. It is difficult for interested consumers to get an intimate appreciation for particular properties in Bordeaux, where it might be easier in other parts of the world.  And so someone with Stephen's reputation and gravitas becomes the conduit through which consumers, and industry, learn. This book is definitely one for the reference shelves rather than the bedside table, though it's likely nonetheless to get a regular thumbing.  Perhaps the small, tight fount won't, after all, be a disincentive to short bursts of research and reference.
---
Please feel free to comment on this article