Published by Sally on September 17, 2012

A version of this article first appeared in the Drinks Business, May 2012.
Source for all charts: Austrian Wine Marketing Board
A decade is not a long time in viticulture, but for small, niche producer Austria, ten years has seen notable movements in the structure of the wine industry.  A comprehensive vineyard survey was carried out in 2009, ten years after the previous one, covering a decade that has seen Austrian wines move into a lauded sphere on export markets.
Consolidation is a theme that strikes at the heart of all of Europe's vineyards, and Austria is no exception. Its vineyard area has shrunk by 5% in ten years, which is no big surprise to anyone, and continues a consolidation seen from the previous vineyard survey in 1992.
Vineyard surveys
| | | | |
| --- | --- | --- | --- |
| | 1992 | 1999 | 2009 |
| Total plantings | 56,900 | 48,497 | 45,979 |
| Red plantings | ~14,000 | 12,352 | 15,712 |
| White plantings | ~43,000 | 36,145 | 30,266 |
European Union grubbing up subsidies have played their part in this ongoing structural re-organisation, which started in 2000. Part of this structural work has seen the number of growers decline from 32,044 in 1999 to 20,181 in 2009, as hobbyists exit production.
This dramatic consolidation still leaves the average vineyard holding at just 2.3 hectares, and even now there are just 19 wineries producing more than one million litres of wine.  Such consolidation "reflects the ongoing process of concentration and increasing professionalism in the Austrian wine sector" said Dr. Rudolf Schmid, from the federal ministry of agriculture, forestry, environment and water management, adding "a lot of very small, old, and unproductive vineyard disappeared."
Within this vineyard decline are two key trends. A swing in vineyard plantings to red grapes has seen them account for one third of vineyard area in 2009, up from one quarter in 1999. Data from a previous report shows this to be part of a much longer term trend in production reflecting domestic consumer preferences.

Barring vintage anomalies a 'best-fit' line would show a gentle decline in the volume of white wine produced along with the smallest trend to increased red production.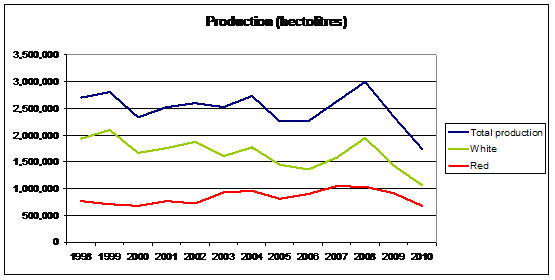 A dig into the red plantings shows increases for indigenous grapes zweigelt and blaufränkisch, with the 'easier' zweigelt increasing by 2126ha (+49%) and blaufränkisch a modest 584ha (+22%). While most areas have planted a little zweigelt, Burgenland accounts for much of the increase of both varieties. Christian Zechmeister, managing director of Wein Burgenland said "we sell 80% of our wines in Austria. We like to drink our wines young and we can do it with smooth-structured zweigelt; it has no problems with early bottling. Blaufränkisch needs more time to soften its tannins."
Such a dig also highlights that international varieties merlot, cabernet sauvignon, syrah and cabernet franc have increased their share of red plantings from 3.5% to 10%. There is no alarm that Austria's indigenous varieties may be under threat though. Zechmeister said "merlot fits in Burgenland as a good blending partner, and we like it, but we love zweigelt and blaufränkisch" plus "there was a huge trend around 2000 for cabernet sauvignon, but it is not the perfect variety for Austria as it doesn't ripen very year."
The consensus seems to be that red plantings, of all flavours, may have maxed out. Willi Klinger, managing director of the AWMB said "Austria had too little red wine for the domestic market. Now the production is in balance, but may slightly shift towards white again in the next years."
This was reflected by Roman Horvath MW, winery director at large producer Domäne Wachau, in Lower Austria: "Austria was always dominated by white wine. Even in warmer Burgenland, grüner veltliner was the most important variety. In the 1990s red wine experienced extreme market demand, that's why we have this big change. Today the situation is different. Red wine has peaked in Austria and on export market it's mainly grüner veltliner. Now we see a shift from red to white in certain areas."
Another key swing was away from Austria's flagship variety, grüner veltliner, and the one that created such positive acclaim on export markets.  In the decade to 2009, plantings of grüner veltliner decreased from 36% to less than 30% of the total vineyard area. But Klinger is not surprised at this adjustment, saying "the production of bulk grüner veltliner declined, especially in Burgenland. So mass produced grüner veltliner lost ground, while grüner veltliner from good terroir established itself in the markets."
Sizeable chunks of the uprooted white grapes have been in Burgenland, where,  Klinger said, producers are focusing "more on combining grape variety with region, and Burgenland grüner veltliner, especially from flat vineyards with rich soil near the eastern shore of lake Neusiedl just did not get interesting grape prices any more."
He added "I am sure the demand for quality grüner veltliner will rise significantly over the next decade, which is why I think that white wine will bounce back against red."
Perhaps that tide is already turning. There is evidence, from the EU restructuring data, to show grüner veltliner plantings have been on the increase since the 2009 vineyard survey. Schmid said "between 2009 and today we had a grubbing up of 329 hectares of grüner veltliner, and new plantings of 892 ha, so a plus of more than 500 ha of grüner veltliner."  Horvath's experience in Niederösterreich reflects this: "we increased our hectarage of grüner veltliner from 55% to 68% in the last 7 years and the trend goes on."
The export picture is consistent with a quality focus. In the last decade there's been a huge swing to bottled exports, and the value growth in exports concomitant with this has been impressive.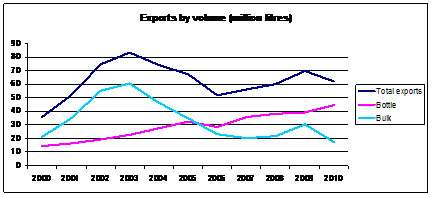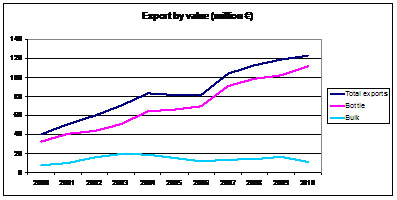 Prime quality export markets continue to be the UK, Switzerland, the USA, Denmark and Finland, and if the UK is anything to go by, focus is on indigenous varieties that offer a distinct USP. Lance Foyster MW of Clark Foyster Wines said "white is still the vast majority of our sales. But certainly there's a little more red. Moric wines [have] made quite a noise, which has translated into reasonable sales of his blaufränkisch wines." And he said, people have moved from asking to taste Austrian red, to taste blaufränkisch, so the name of the grape has recognition.
Another development since the 1999 survey has been the typicity drive of the developing DAC system, which is fully geared to indigenous varieties, and, said Klinger "completing the DAC system with representative wine styles and getting more and more estates to high quality winemaking and international distribution brings down bulk sales, raises revenue and makes Austria fit for the next generation."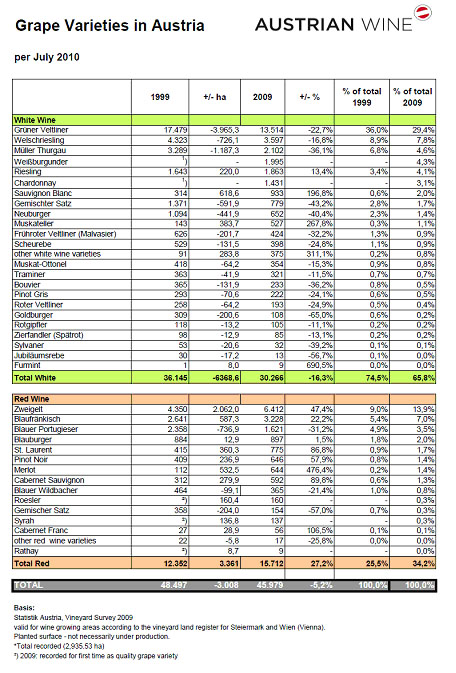 ---
Please feel free to comment on this article