Published by Sally on June 23, 2011
1 Comment
Steinertal is one of the first vineyards encountered at the eastern end of the Wachau, almost into Kremstal. It's tucked onto the coolest, eastern end of Loibenberg and lies below the peak of the 413m high mountain.  The soils are deep primary rock, more usually reserved for riesling production, but Alzinger's grüner veltliner is heart-stoppingly complex and intense.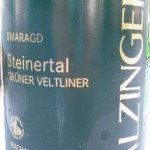 Alzinger, Grüner Veltliner Smaragd, Steinertal, 2009, Wachau
13.5%, 4.2g/l RS
White pepper, spicy and stony, rocky. Dense, succulent. Light, creamy, seamless, silky texture, with fruits of peaches, apricot, jasmine, ginger, nutmeg complexing spices, with tropical fruit essences tantalising the palate.  A wine to dive into and willingly abandon all hope. Outstanding wine.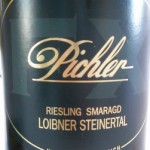 FX Pichler, Riesling Smaragd, Loibner Steinertal, 2009, Wachau
13%, 7g/l RS
Peachy with nutmeg and ginger nose, lush and succulent, complex and seductive. That tiny hint of sweetness flawlessly balances the long lines of this wonderful nectar. Savoury, steely, rocky notes juxtapose impeccably with rich extract and an exotic spiciness. The eyes roll into the back of the head in wondrous appreciation of this stunningly good elixir.
Roman Horvath MW, the managing director of Domäne Wachau, who led a riesling masterclass at the property in May 2011, calls FX Pichler "the Domaine de la Romanée Conti of white wine producers", almost all of whose production is at the top, smaragd, level, adding Pichler makes a "pure style, lean, precise, and with no botrytis."  
Using a small proportion of ripe fruit with noble rot is technique practised to add weight and complexity, and there are two clear schools of thought on the practice. 
Both of these producers are from the topmost drawer, so does the quality come from the vineyard or the producer?  Steinertal has a beautiful reputation, and Horvath neatly summarised this eternal question by saying he views "the composer [of a sublime piece of music] as the terroir and the [orchestra] conductor as the interpreter.  When you are very much into a subject, you know the subtle differences of different conductors."  
The bottom line is these are exquisite wines.
My research trip to Austria was sponsored by the Austrian Wine Marketing Board.
---
Comments
One Response to "Steinertal vineyard, Wachau, Austria"
Tom Lewis Says:
June 23, 2011 at 8:51 am

Hello Sally

Good to see another article on Austria and the Wachau here.

I was lucky enough to meet Lukas Pichler and try his whole range at the Austrian tasting in London earlier this year and I agree, his wines are absolutely superb.

Here's my review:

http://cambridgewineblogger.blogspot.com/2011/02/fx-pichler.html

All the best, Tom