Published by Sally on December 8, 2011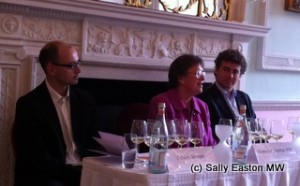 In November 2011, the Institute of Masters of Wine held a Chablis seminar, moderated by Chablis expert and Master of Wine, Rosemary George, author of two books on the region, 25 years apart (and blogging on the Languedoc).
The Chablis protagonists were Fabien Moreau, sixth generation and son of Christian at Domaine Christian Moreau Père et Fils, representing the 'oak' corner, while another sixth generation vigneron, Guillaume Gicqueau-Michel of Domaine Louis Michel et Fils, represented the 'non-oak' corner.
In a region with a notoriously precarious climate, climate change was high on the agenda. Among other protection measures, smudge pots are still used in Chablis, albeit infrequently, to offset frost risk to young buds. The risk appears to be lessening. Gicqueau-Michel last used frost protection in the heatwave vintage of 2003 which had had frosts early on in the season. Even then they used it only for one night, adding there was no great addition to their carbon footprint when compared with potential fuel use by tractors.
Combined with an apparent lessening of frost-risk at the beginning of the growing season are advancing harvest dates. In the 1980s harvest began around October 1st. In the 1990s that date had advanced to the third week of September, and in the 2000s, said George, "a couple of vintages started at the beginning of September". Gicqueau-Michel added "something is changing over the last 10 years.  We have had to harvest quite early several times."  This issue, he said, is to keep the level of acid freshness in Chablis, adding "maybe we'll have to be careful with the amount of leaf-plucking in the future."
Focusing in on the two recent vintages shows quite different characteristics. Moreau described the 2009 vintage as "a good example of perfect climate. Everything was normal in terms of the average for the past 20 years. For me it was too good, it was a challenge not to harvest too late and to keep a certain amount of freshness." Gicqueau-Michel added "the wines are more fleshy, and will open quite quickly."
This freshness was easier to achieve in the more classic 2010, where the acidity was higher. Gicqueau-Michel described it as a "great vintage. The greater acidity makes it more [typically] Chablis. The wines have a nice balance and complexity."
But the lower yields in 2010 gave Moreau a concentration of fruit that year. Consequently, he didn't keep much lees in 2010.  He said the amount of lees he does keep is keenly vintage dependent, and he likes "to see how the lees look after alcoholic fermentation because sometimes they're good, or not so good." In 2010, he said "the yield was too strong in terms of concentration" so he didn't keep a lot of lees.
On the contrary, it was in 2009 that Gicqueau-Michel cut the maturation time on lees "because [the vintage] was warm, and we wanted to avoid a heavy wine, and keep the freshness."
And when he does keep the lees, there is no battonage. On which subject Moreau agreed, saying "in 2002 [when the new guise of the domaine started], I did lots of battonage, and the year after I stopped it.  It's why we're using oak, so we don't need battonage."
George said battonage generally is untypical in Chablis.
And generally, she estimated that only somewhere between 5 and 10% of total Chablis production goes into oak. And where it is used at all, it is usually on premier cru and grand cru wine.
On their Le Clos, for example, Moreau may use 40% oak, but less than 2% of the total blend is new oak, and, said Moreau "we prefer longer heat at not so high a temperature" for toasting the barrels because "we're not looking for oak flavour, but for a slow oxidation. Oak adds tannin structure to the wine, and we don't use it for Chablis or Petit Chablis."
Gicqueau-Michel remains un-tempted by the oak argument, saying "I want to continue to explore terroir, with its lots of small changes, so we vinify as neutrally as possible, using tanks." He added "when we work with stainless steel, we try to manipulate as little as possible. There is very little contact with oxygen, so our wines will need more time to open than some other Chablis producers."
Regardless of whether Chablis has been vinified using oak or not, George said with age "it has the chameleon aptitude of making you think it's been in barrel, when it hasn't." Moreau suggested that with bottle age "acidity gets rounder and softer" which may influence a taster's perception, while Gicqueau-Michel suggested this trait may be "a character of terroir. The typical aromas of Chablis evolve in bottle to mushroom aromas, humus characters, sometime buttery, nutty" notes.
Tasting, in London, November 2011
Apart from one oxidised bottle (no notes), this tasting was a treat for the palate and the brain.
Domaine Louis Michel et Fils, Chablis 2010
Citrus, meal, smooth, with steel acacia. Persistent palate with fresh, citrus, linear flow.
Domaine Christian Moreau Père et Fils, Chablis 2010
Oatmeal and steel nose, with acacia and apple blossom, steely attack and lemon curd. Smooth, refined and with a big depth of flavour and long finish. Very nice indeed.
Domaine Louis Michel et Fils, Chablis Montée de Tonnerre 1er Cru, 2009
Steely allspice nose, hint of ginger and nutmeg complexity. Very smooth with good density of fruit, and tightly focused. Linear and good.
Domaine Christian Moreau Père et Fils, Chablis Vaillon 1er Cru 2009
Fresh lemon toast, lemon curd toast, round and with some almond-gras/weight. Youthful spices of toast and nutmeg. Richness and latent complexity here.
Domaine Louis Michel et Fils, Chablis Grand Cru Les Clos 2009
Smooth, citrus, steely, lemon zest and pith, with silky texture and rich density of primary fruit layered with steely, flinty minerals. Richness from razor focus, with flesh of ripeness. Good.
Domaine Christian Moreau Père et Fils, Chablis Les Clos Grand Cru 2009
Lemon toast, vanilla pods and nutmeg nose in elegant, discreet proportions. Smooth, with fine open-knit 'grains' and warm richness of youthful fruit flesh. Long finish.
Domaine Louis Michel et Fils, Chablis Les Clos Grand Cru 2007
Nose a little muted, fruit erring to preserved lemons, still with linear acidity. Seems to be sulking a bit, yet to open up. Hints of fresh-light-cream on the palate attack, pristine and steely smooth.
Domaine Christian Moreau Père et Fils, Les Clos 2007, Chablis Grand Cru
Creamy, lemon toast, quite richly spicy, almond, honeyed dry toast with hint of nutmeg and even cardamom. Long length in palate, and long finish. Warm and clearly toasty. And very smooth texture.
Domaine Louis Michel et Fils, Vaudésir 2004, Chablis Grand Cru
Steel magnolias with smooth texture. Heading towards medium-full bodied fatness in a an attractive way. Smooth and rounded, warming and very drinkable. Vg.
Domaine Louis Michel et Fils, Vaudésir 2003, Chablis Grand Cru
Fleshy melon and peachy ripeness. Smooth and succulent, mouth-filling and perhaps not so classic? Rich, round, and not quite rotund. Aromatically spicy.
Domaine Christian Moreau Père et Fils, Blanchot 2006, Chablis Grand Cru
Round and fleshy with warm cardamom and aromatic spice. Oak spiciness in a warm, gently enveloping sort of way. Lemon curd on toasty nose, hint of sweet fruit, leesy cream, rich and fat in a Chablis context, i.e. still fresh and linear. Smooth, silky, delicious now.
Domaine Christian Moreau Père et Fils, Blanchot 2004, Chablis Grand Cru
Rich, honeyed, some overt nuttiness and open knit character. Full bodied and lush, still with a nice linearity and steel core. Very nice indeed. À point for me. Long finish with rich depth of flavour.
Domaine de Vaudon/Joseph Drouhin, Chablis 1989
Toasted, rich nuttiness and creamy-fat texture with full complement of tertiary, developed aromas, toasty, dry honeyed, fat. Lovely drinking.
Domaine Servin, Montée de Tonnerre 1998, Chablis Premier Cru
No oak, yet honeyed and toasted, with great amount of freshness still, with steely notes and blossom notes intact. Length not huge but, good flavours on the palate, smooth, nutty, floral, silky texture. Good.
Domaine des Malandes, Montmains 1996, Chablis Premier Cru
No oak. Citrus, fresh, indeed quite tart, and erring towards out of balance for me.
Domaine François Raveneau, Forêt 1995, Chablis Premier Cru
10% new barrels every year. Aromatic spice and  nuts on the nose, still tightly and tensely structured. Rich, fat, fresh, linear and taut. Little real sign of age. Huge concentration, finesse, elegance and depth. Long. Vg.
Domaine Laroche, Les Vaillons 1987, Chablis Premier Cru
Smoky, dark, roasted nuts, almost tarry aromatics, big, fat, still with freshness. Full and nicely balanced.
Domaine Christian Moreau Père et Fils, Valmur 2003, Chablis Grand Cru
Aromatic, youthful nose and palate of honey and acacia. Virtually no signs of ageing here at all. Quite full and 'rich' without weight or sweetness. Faintest hint of fresh. Dense, still-perfumed with rounded acidity. Lovely.
Domaine Long-Depaquit/Albert Bichot, Moutonne 2002, Chablis Grand Cru
Pale gold colour. Fat-cream and smooth toasty nose, firm acid core. A big wine.
Domaine de Vaudon/Joseph Drouhin, Vaudésir 2000, Chablis Grand Cru
White-nutty nose, creamed cobnuts. Smooth, round, softer acidity than experience so far this morning. Aromatic spiciness, with rounded acid profile.
Domaine Louis Michel et Fils, Grenouilles 1996, Chablis Grand Cru
Sweet, leesy nose, fresh-honeyed cream, nutmeg and allspice notes on the palate. Full, round, rich, fat mid palate, and with typical fresh backbone, even now. A bit of a warm finish. Good.
Domaine René et Vincent Dauvissat, Les Clos 1995, Chablis Grand Cru
Tarry, toasty nose, fresh-creamed cobnuts, youthful and delicious. Fresh nuts, still floral, and so young. Fresh, pristine, medium bodied and deliciously proportioned. Long, linear, lovely.
---
Please feel free to comment on this article